Roles & Permissions
#
Overview
Roles are critical to ensuring the safety of the data stored in a CMS, creating efficient workflows, and building independent teams.
Each role has specific permissions assigned to it, which determine what the user can and can't do in Hygraph, as well as which parts of the app they can and can't see.
For some roles in Hygraph, for instance, developer functionality is hidden to declutter the screen and show only what is relevant to your role.
As an Editor, you won't create roles but will rather be assigned to them. However, it's still useful to know what they are, how they work, and that they could be the reason why your screen may look different from the ones shown in these guides.
#
System roles
System roles are the default roles in Hygraph, and cannot be edited or deleted.
There are four standard system roles in Hygraph. As part of the content team, the following roles are relevant to you:
| Role | Permissions |
| --- | --- |
| Admin | This role access to all of the functionality in Hygraph |
| Editor | This role can create, update, and delete content |
| Contributor | This role can create and update content |
#
Custom roles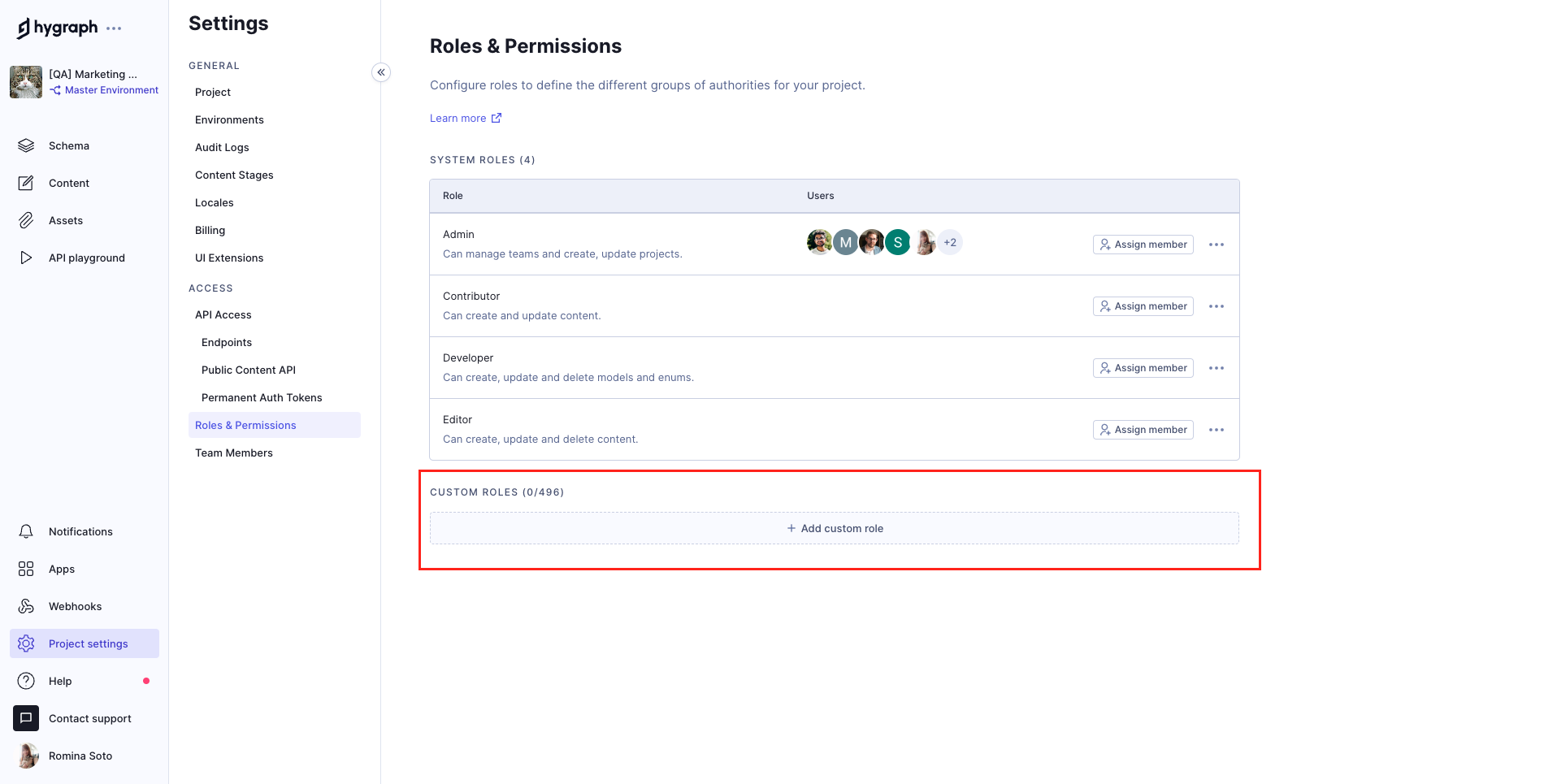 Hygraph - Custom roles
Since every team is different and has its own structure with its own particular needs, it is possible to create custom roles that match the functionality that a company might need, and only show the parts of the app that the user needs to access.
As an Editor, you will likely not create new roles - which can only be done by users with the role of Owners or Project administrators - but it's important to know that you may have been assigned to a custom role that does not necessarily reflect the permissions discussed in the System roles section.
You can find the Roles & Permissions section of the app under Project settings > Access > Roles & Permissions.
The default Editor role available for all Hygraph projects allows users assigned to it to view permissions, but not edit them.