Duplicate content
#
Duplicate content entries
Editors can sometimes duplicate a content entry as a way to speed up content creation. You can find this option inside each content entry.
Follow these steps to duplicate content:
Click on the content editor tab of the app.
Locate the view where the content is, and click on it.
Find the content entry on the form, and click on the pencil icon to enter the content-editing mode.
Click on the duplicate icon at the top of the screen.
The duplicated entry loads. The word (copy) at the end of the title line indicates that you're currently in a copy of the original entry. You can now make the necessary changes to the content entry.
Click on Save or Save & publish. If you try to leave without saving, the system will warn you.
Note that if the content entry contains reference fields, some of the relations will be duplicated and others won't. The system will notify you if this is the case.
The system will only duplicate references with the cardinality many to many and many to one.
What is copied in this case is the reference - the link between the two content pieces - but not the referenced entry itself. To duplicate referenced entries within an original entry, check out the following section of this document.
Please carefully examine duplicated content containing references to prevent errors. You may need to reference content manually in duplicated entries.
#
Duplicate relations
When working with relations - also known as references - you can quickly duplicate referenced entries within an original entry. This is a quick way to keep the format of the related content, while allowing you to make content edits that won't affect other entries that contain the same reference.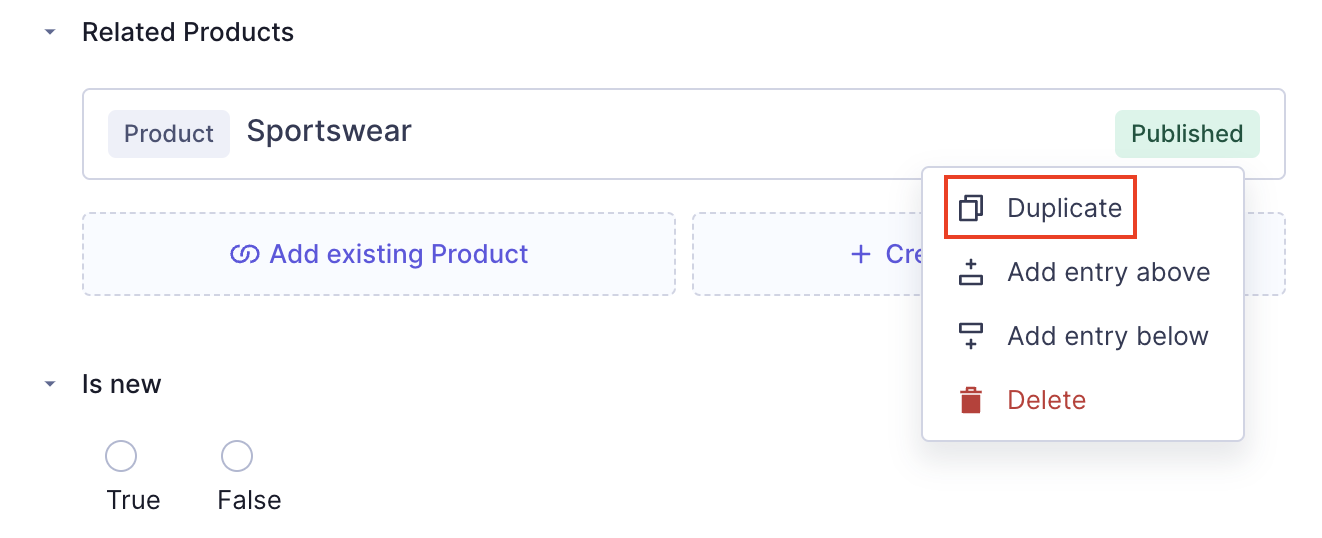 Duplicating related content
Navigate to the content entry that contains the relation you want to duplicate.
Click on the three dots context menu and select the Duplicate option.
The duplicated reference screen will display. Here you can make the necessary edits, then Save or Save & Publish.
Saving returns you to the original content entry you were working on. The reference field now contains the duplicated reference.
System behaviour depends on field configuration:
If the field allows referencing only one model, the duplicate will replace the original.

If the field allows referencing more than one model, the duplicate will display as an additional reference.