Integrations
#
Overview
Apps are a core aspect to Hygraph's extensibility. They extend the capabilities of your Hygraph project by bringing in functionality from tools and services you're accustomed to using within your workflows.
In this documentation section, you'll find step-by-step guides that will help you integrate Hygraph with a number of apps, as well as additional information on how to use those apps in your Hygraph project.
#
Installing apps
You can install an app by selecting it from our Marketplace, where you can navigate the apps page to find what you're looking for, or filter them by category.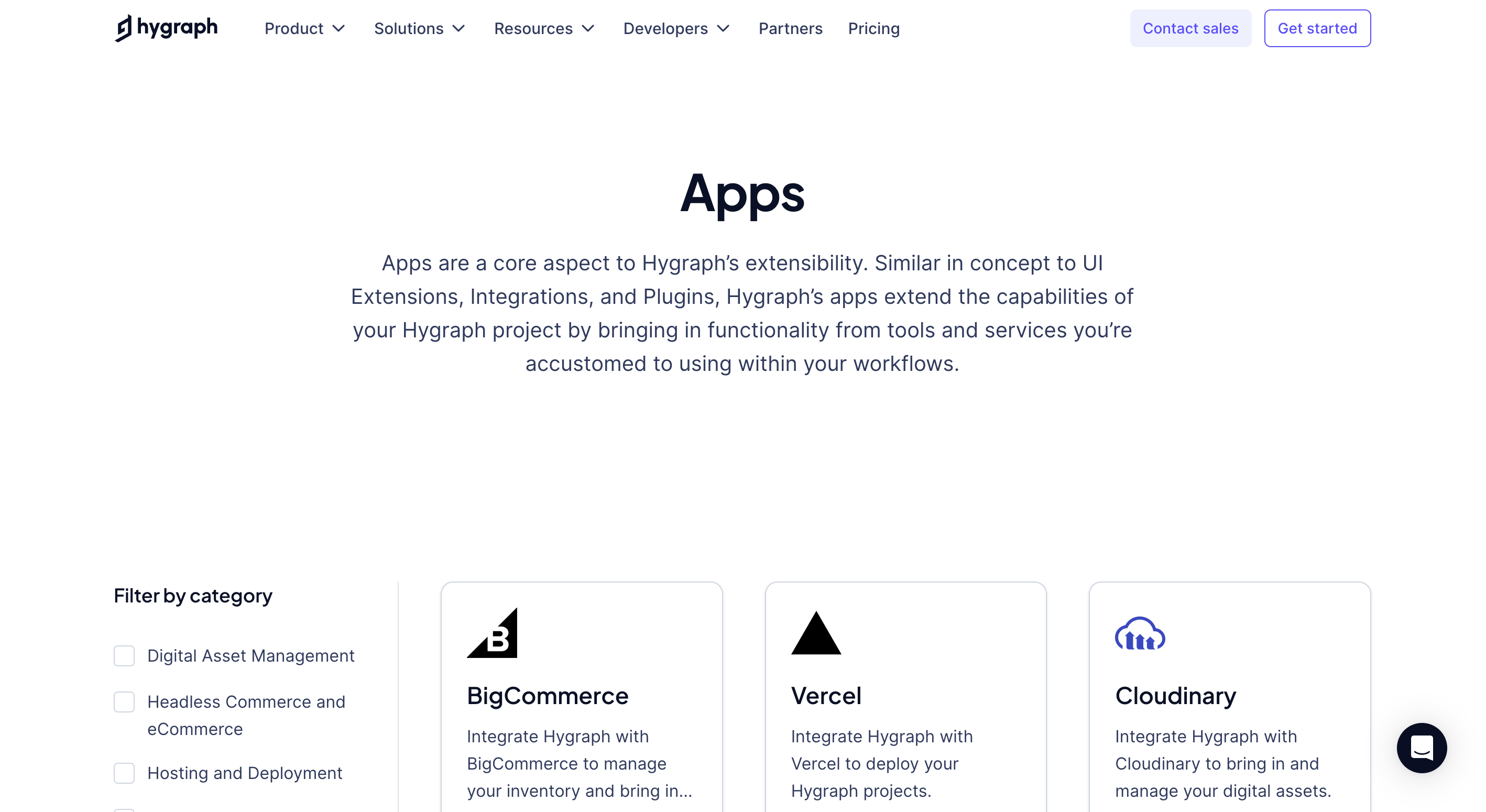 Apps in Hygraph Marketplace
Once you find the app that you want to integrate your Hygraph project with, you can click on its card to display the app details page. The details page contains everything you need to get started, such as basic app information and links to our step-by-step integration guides.
Simply click on the purple installation button to start.
In general, the installation process starts by prompting you to select which project and environment you want to install the app in, then authorizing the necessary permissions. The last step involves providing some information in your app's confirguation page to ensure your project is linked to it. The information required there depends on the app, as different apps have different prerequisites. Each app integration guide details what that information is, and how to find it in the app you're integrating. Please take a look at our Section contents to learn about available apps.
#
Modifying apps configuration
There are situations where you might want to change the information you initially provided in the configuration screen when you first installed an app. For instance, some apps require you to select models, asset types, or provide keys.
To edit this information, navigate to the Apps section of you Hygraph project dashboard, find the card of the app you need to edit information for, then click on the pencil icon.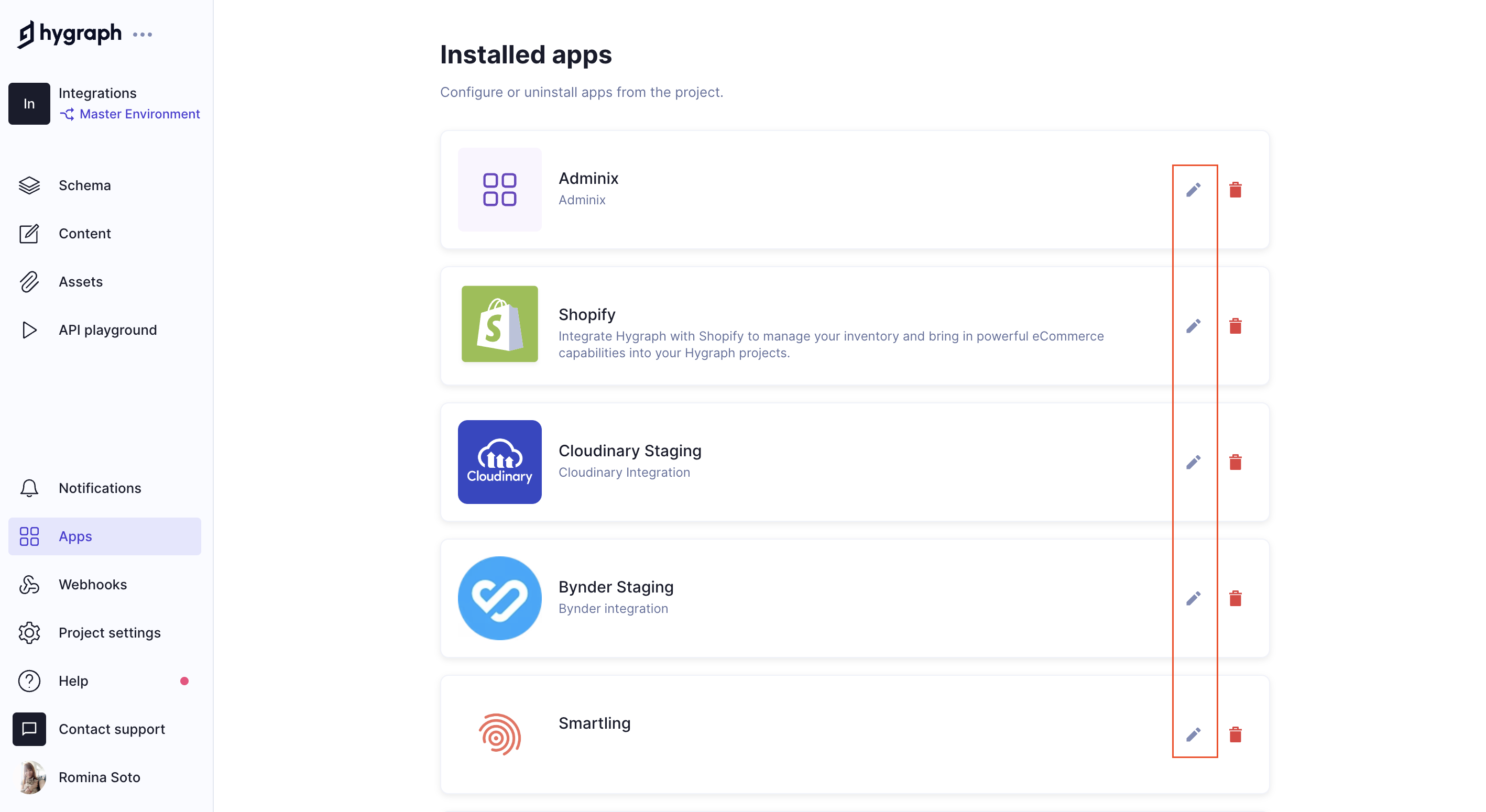 Edit app information
Clicking on the pencil icon opens the confirguation page, where you can edit the information that you provided during the initial configuration.
#
Uninstalling apps
To uninstall an app, navigate to the Apps section of you Hygraph project dashboard, and click on the Uninstall app icon.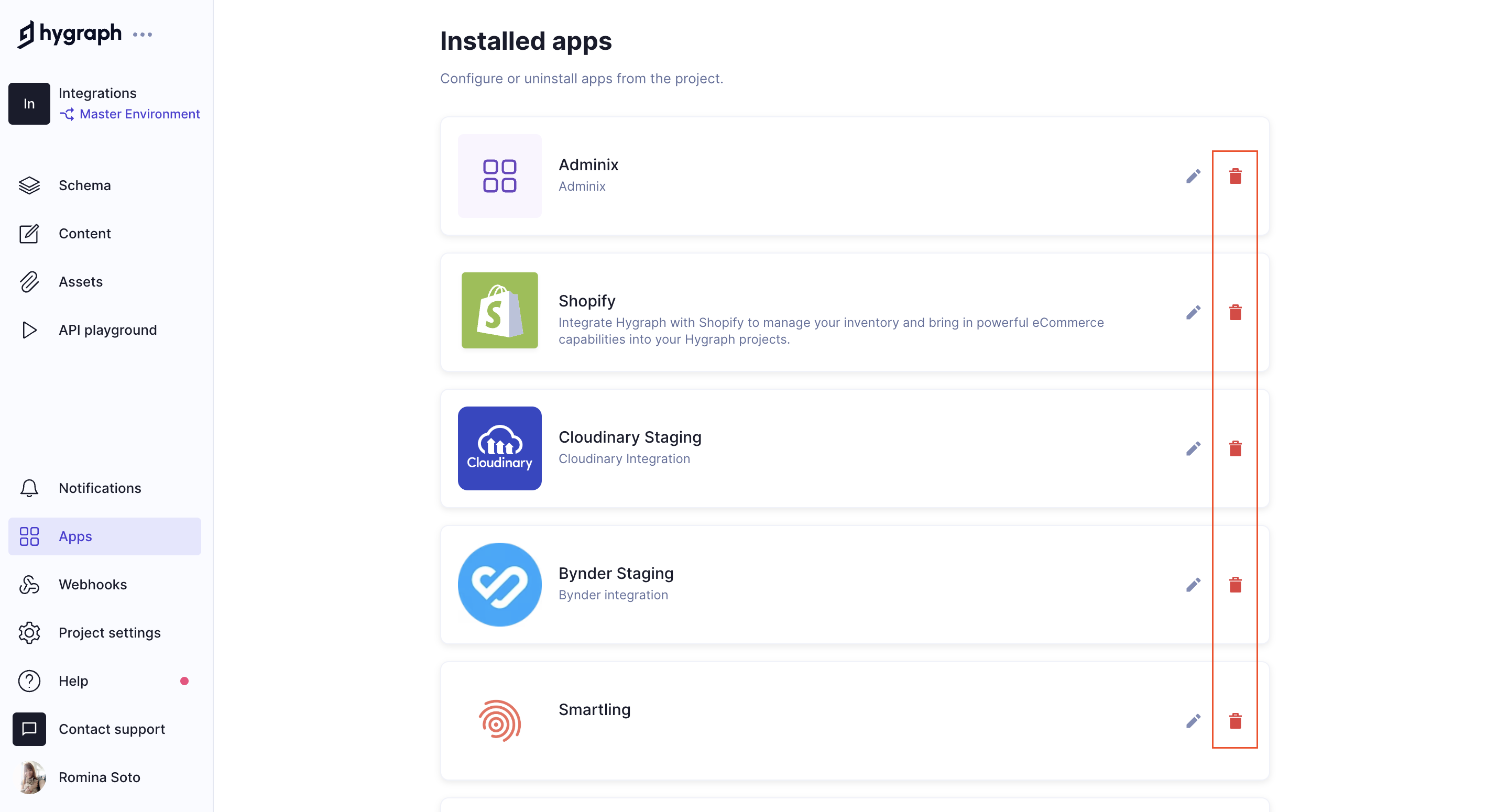 Uninstalling apps
To ensure that you don't accidentally delete an app, you will need to confirm that you want to do this by typing the name of the app in a confirmation popup, then clicking on the Uninstall app button.
#
Section contents
This section offers a contents map to help you readily find what you're looking for.
#
Digital assets management
#
Headless commerce & ecommerce
#
Hosting & deployment
#
Localization
#
Personalization & AB testing
#
Artificial intelligence (AI)
#
Miscellaneous