In times when consumers are exposed to brands on many fronts, user experience is related to all touchpoints. In fact, companies that invest in omnichannel experiences have seen significant revenue growth three times more often than those that do not.
Business leaders understand the importance of establishing omnichannel experiences for their customers and the need for an omnichannel content strategy to support those experiences. However, few have examined the technology that facilitates velocity and scalability, enabling an efficient omnichannel content strategy.
In today's article, we'll discuss the essentials of an omnichannel content strategy, but more importantly, we'll explore the secret weapons that make omnichannel content strategies successful.
#
What is an omnichannel content strategy and why does it matter?
In a nutshell, an omnichannel content strategy involves creating and distributing cohesive and consistent content seamlessly across various channels to provide a unified and personalized experience for the audience.
Unlike multichannel distribution, today's omnichannel landscape diverges as content is often authored, edited, and published across distinct IT systems by cross-functional teams. Rather than creating content in silos and presenting it across a variety of platforms, an omnichannel content strategy involves creating cohesive messaging, turning it into reusable content, and sharing it across multiple platforms.
It is the technical aspect of an omnichannel content strategy that makes it effective. While traditional content is primarily page-based, omnichannel experiences rely on modular, structured content.
Putting it in perspective, if you want to present your company's mission statement on multiple fronts without an omnichannel strategy, you need to copy and paste it into individual page builders. In contrast, by using intelligent tools that allow for an omnichannel content strategy, you can pull content from the system and send it to any front.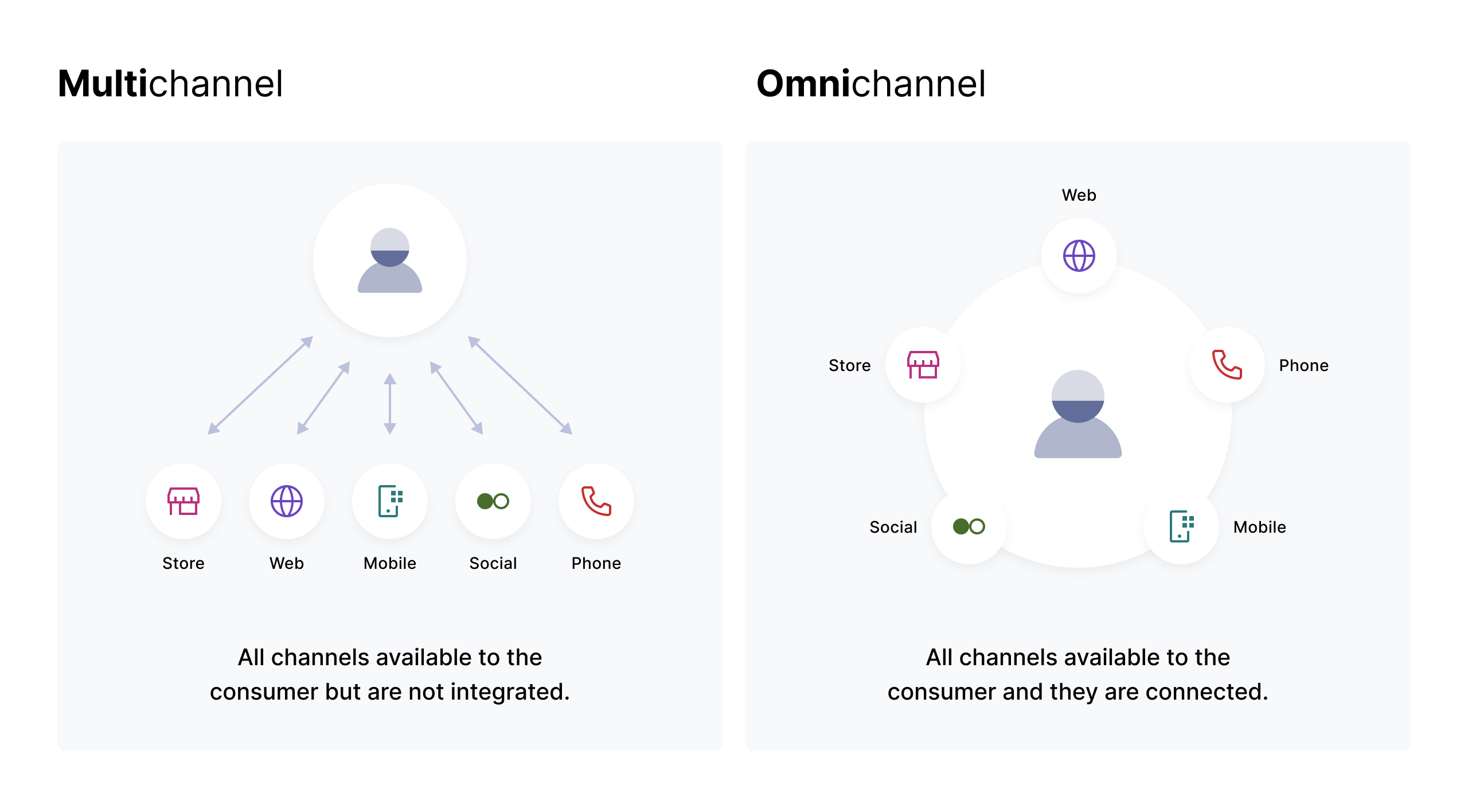 View multichannel vs. omnichannel content strategy in full resolution
#
Benefits of adopting an omnichannel strategy
Adopting an omnichannel content strategy benefits businesses from different perspectives, including:
Consistent brand messaging: A seamless omnichannel strategy translates to a cohesive and easily identifiable brand identity that aligns with customer core needs. Content modularity allows brands to edit content in one place, and all fronts update when changes are made, ensuring content is delivered to the right places with the right messages. In addition to saving costs, this can also increase revenue since the likelihood of converting sales is 75% higher when consumers recognize a brand's identity.
Personalized customer experience: In an upcoming cookieless world, consumers are more likely to stick with brands that provide meaningful touchpoints. By utilizing omnichannel content strategies, brands have the opportunity to collect more first-party data and generate more insights by retaining users on their platforms.
Seamless collaboration: With all the content for multiple channels managed on a single platform, collaborating on content becomes more effortless. Delivering local components faster with fewer approvals, reducing overall architecture complexity, and building scalable custom solutions becomes possible.
Competitive advantage: Velocity is crucial to gaining competitive advantages. Brands in the modern days require the ability to respond to market trends promptly, optimize customer journeys, and differentiate through rapid, relevant content delivery. When companies only need to make edits once instead of repeating the process for each different front, time to market is significantly improved. Ultimately, the fusion of omnichannel prowess and accelerated content velocity propels brands into the forefront of their market, fueling growth and innovation.
#
Four steps to create an omnichannel content strategy
1. Review communication goals
A clear and thorough understanding of your goals can help you identify which channels are best suited to connecting and engaging with your customers at every funnel stage. You can align company goals with omnichannel content distribution strategies for improved customer outcomes.
2. Define your audience
To deliver personalized customer experiences, you must know who you are communicating with. This includes where and how they shop and what channels they use to gather product information. This helps set the tone of your messages and define targeted marketing initiatives.
3. Build consistency with your message
Keeping content consistent across all channels makes connecting and identifying with your brand more accessible for customers. In the omnichannel approach, you must define a few key pillar messages and turn them into modular content. Content modules can be used later on web pages, mobile applications, social media, emails, and other platforms. The secret to seamless channel transitions is actually using the same messaging pillar.
4. Choose a tech stack that aligns with your omnichannel strategy
Showing up for your customers and offering great experiences does not happen by chance. It requires an integrated tech stack that perfectly aligns with your omnichannel strategy. An API-driven solution facilitates modular content, whereas an ultra-flexible CMS model is needed to create out-of-the-box content. If you feel stuck in traditional content, you might want to reconsider the tech stack you are using or consider replatform to a more powerful CMS that unlocks your content potential.
#
Unfold your omnichannel content strategy with a headless CMS
Omnichannel strategies vary from business to business, but a next-generation headless CMS is the most critical component of any omnichannel content strategy.
A traditional tech stack can stifle brands' content potential. Inflexible development processes and rigid page builders limit content velocity and prevent marketing from delivering content in the way they want.
As a result, businesses are now moving towards a more flexible infrastructure to establish a system where content can be added, moved, or rearranged across multiple channels as and when required with a headless CMS.
CMS is a crucial part of any stack, especially for companies with a high content demand. When evaluating whether a CMS can deliver an omnichannel content strategy, below are the key points to consider.
API-driven
API-driven CMSs leverage the power of APIs and decouple the frontend from backend, offering more flexibility and scalability for content creation. As new channels and devices come to market regularly, teams need to be better prepared to deliver content to any platform. Content delivered via API enables campaigns to be future-ready and run across any platform, whether a website, app, smart fridge, smartwatch, or car.
Structured content
Structured content involves breaking down content into individual components, making it easier to repurpose, reassemble, or personalize for different channels. These components can then be adapted to any use case, whether building new projects from scratch or changing existing projects.
Break content into components and make it more flexible and accessible for different displays. With the same components across devices, teams can ensure messaging remains consistent across channels. This reduces manual work to update content in several places for multiple frontends.
Flexible content modeling
Creating meaningful, measurable content strategies begins with content modeling. Content models represent business goals, user goals, editor needs, and developer needs. A poor content model will hurt at least one of these groups.
Instead of adapting strategy to fit rigid templates or the limited capabilities of a platform, businesses should be able to define the ideal customer experience and then create unique content models to achieve it.
A headless CMS like Hygraph offers flexible content modeling across various fields and data types. Hygraph also offers multi-environment setups, so you can start your project quickly and test ideas about content structure without affecting production data as you work together on the model. This is the right solution if you have an existing project and want to add a significant component.
#
What's next
Omnichannel content strategy is now a necessity for businesses that want to stay relevant and get ahead of the competition.
Through the adoption of Hygraph, Samsung transformed its customer loyalty program with an omnichannel content strategy. Thanks to the headless architecture and flexible content modeling, Samsung has easily developed pages and tested different setups and models. As a result, customer engagement increased by 15% on the member's platform.
Hygraph empowers businesses to deliver omnichannel experiences at scale. Our API-first headless CMS allows you to create customizable and powerful applications without worrying about maintaining the backend.
Get in touch with us if you want to know more about how we can help you develop your omnichannel content strategy.