Organizations are collecting more data than ever, which in turn requires complex data management structures that enable data access, governance, and protection.
Still, having too many barriers to data can slow down business operations. This is why the demand for data catalog tools has increased.
Data catalogs help businesses administrate data, save cause, as well as mitigate fraud and risk. At the same time, they improve operations efficiency and help companies gain a competitive advantage.
Here we take a look at the best data catalog tools you can get in 2023.
#
Why do you need a data catalog tool?
A data catalog tool is a software solution that enables data collection, organization, and governance with the ultimate goal of helping organizations make more intelligent business decisions.
Access data more easily
Speed up performance
Improve organization
Tighten the security
Save costs
In other words, a data catalog tool helps teams take a deeper dive into business data for deeper analysis and more accurate insights.
#
Top 16 data catalog tools?
Hygraph
Organizations that deal with composable stacks of data often need to work out several microservices and orchestrate several APIs into one consistent layer.
Hygraph can provide a unified data catalog and product experience via one orchestration layer.
Although Hygraph is not a pure-play data catalog software, it's a powerful tool for inventory and catalog management.
Hygraph's decoupled architecture allows organizations to unify all their services into a single GraphQL API to deliver complex applications and digital experiences.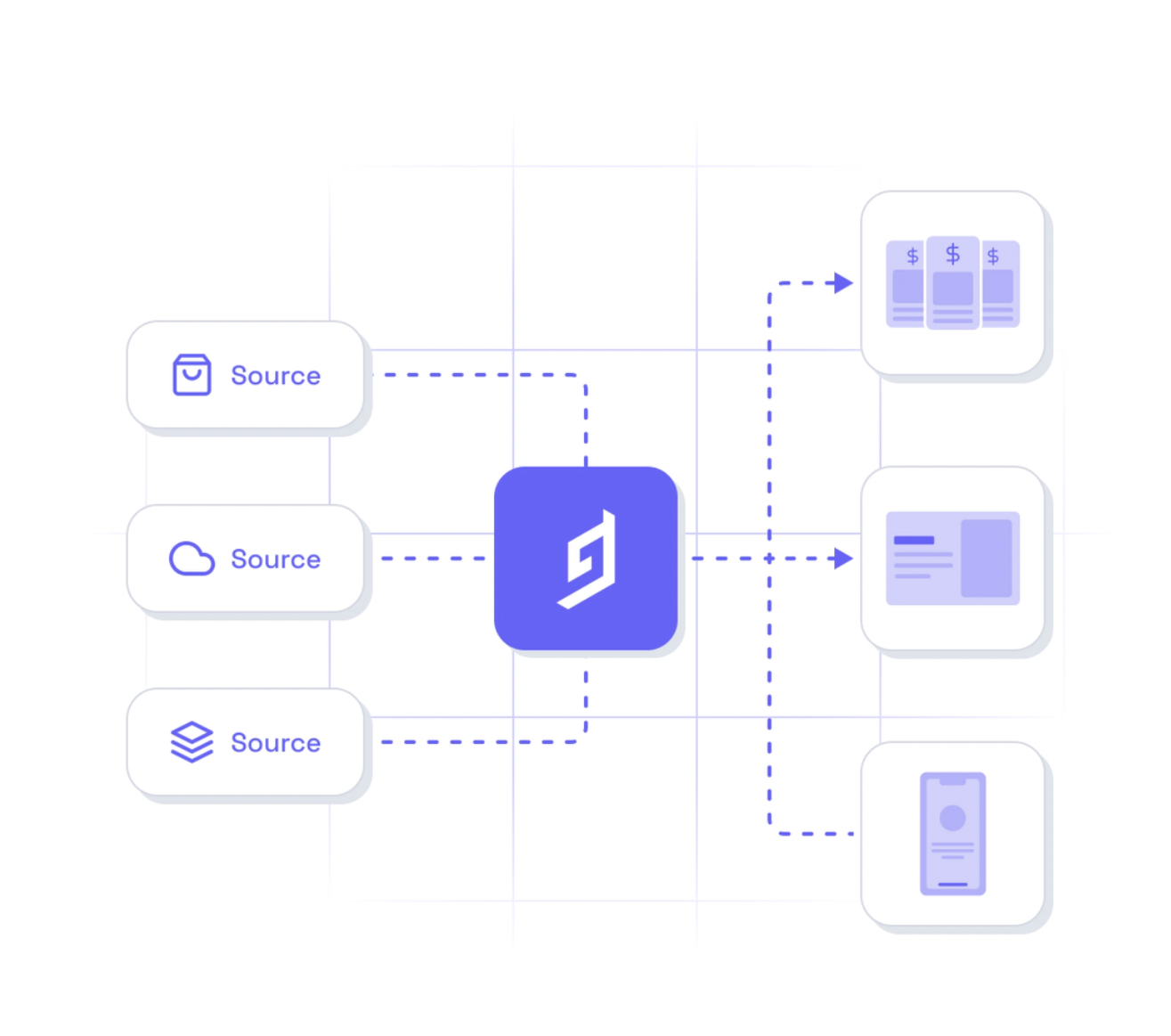 For example, you can use Hygraph to drive engagement and conversions by connecting rich content experiences with product sliders, previews, promotions, and all kinds of CTAs so your users can seamlessly explore the category trees.
Also, being a headless CMS, the Hygraph schema editor allows teams to make architectural changes independently from the front end.
This way, developers can focus on creating new user features while the content team has more autonomy to create and test new campaigns.
Why is it the best?
Scalable with 10+ million entries
Headless architecture
Read and write content with flexible APIs
Multi-tenancy
Granular permissions
Flexible omnichannel content distribution
GraphQL native
Google Cloud Data Catalog
Google Cloud Catalog is a cloud service with strong data discovery and metadata management capabilities. The key features include a central catalog, serverless architecture, metadata as a service, search and discovery, cloud DLP integration, schematized metadata, access management integration, on-premises connectors, cloud identity, and governance capabilities.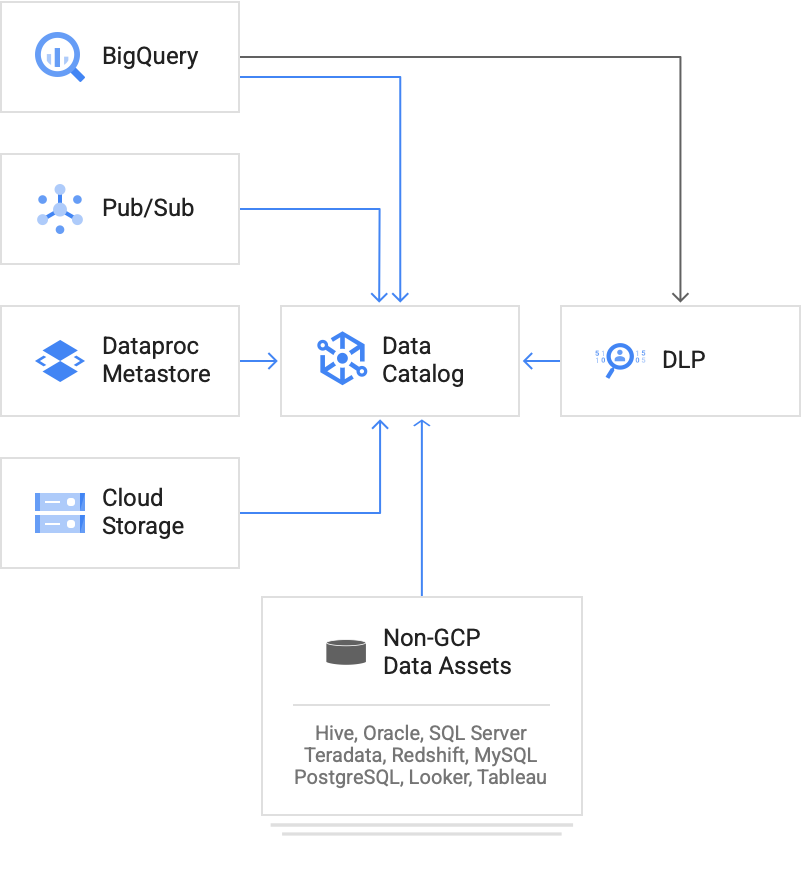 Google's data catalog lacks some of the features of other pure-play vendors, but it provides faceted search interface metadata sync and tagging as well as easy scalability.
Why should you consider it?
Easy to integrate with other Google Cloud Services.
Very scalable and competitively priced.
LinkedIn DataHub
This open-source metadata management platform allows teams to discover, observe and govern federated business data.

Source
Its architecture is scalable, which allows companies to scale their data operations as their metadata management capabilities increase.
Why should you consider it?
LinkedIn DataHub is created with continuously changing metadata in mind. Its modular design means companies can increase engagement with their growing data and governance needs.
Also, the frontend user interface allows users to look into data in three ways: Search, Browse, and View/Edit Metadata.
Collibra
Collibra is an enterprise data catalog tool that helps businesses take control of their data by creating standards, enforcing policies, and streamlining processes across their operations.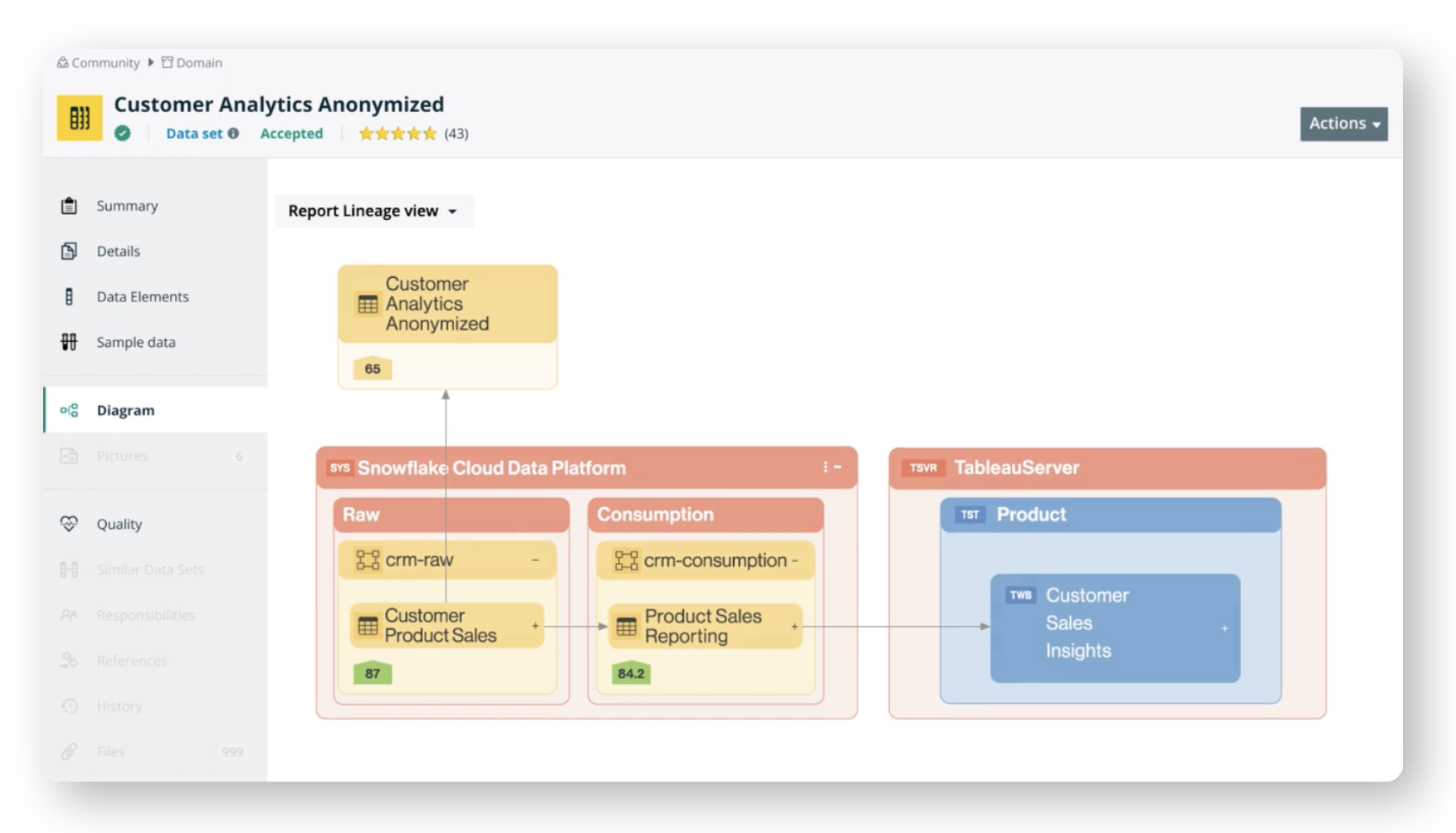 Source
This data catalog tool lets users manage their company's information assets from one place and gives them a single view of every piece of information they need to make more learned business decisions.
Why should you consider it?
Collibra creates an audit trail for every piece of data in your company. This allows teams to see the origin of every piece of information, as well as when it was last accessed or modified.
It also provides a visual representation of how your data is connected across different applications, databases, and systems.
Alation
This data catalog solution brings your organization a comprehensive overview of metadata, allowing your teams to quickly search and access information from anywhere in your organization.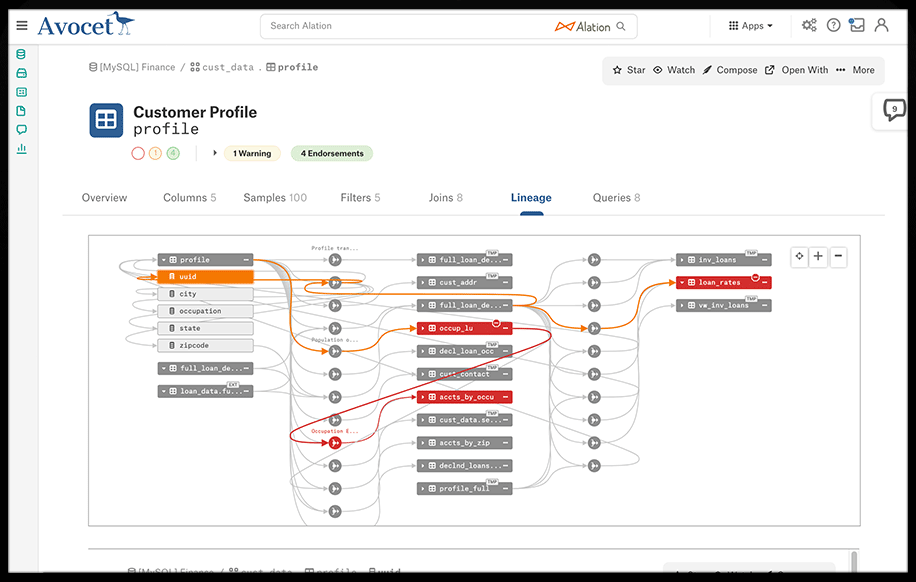 Source
Alation also provides organizational metadata and technical structure components that your teams can use to organize data across both cloud services and on-premises systems.
Why should you consider it?
Alation offers visualized data representation

Comes with guided navigation when users make queries using the app's intelligent SQL editor or search using natural language.
data.world
Not unlike many other vendors on this list, data.world provides a pure-play solution focused strictly on catalog capabilities. A cloud-based enterprise data catalog platform, data.world is created to provide users with a broad context for understanding their data.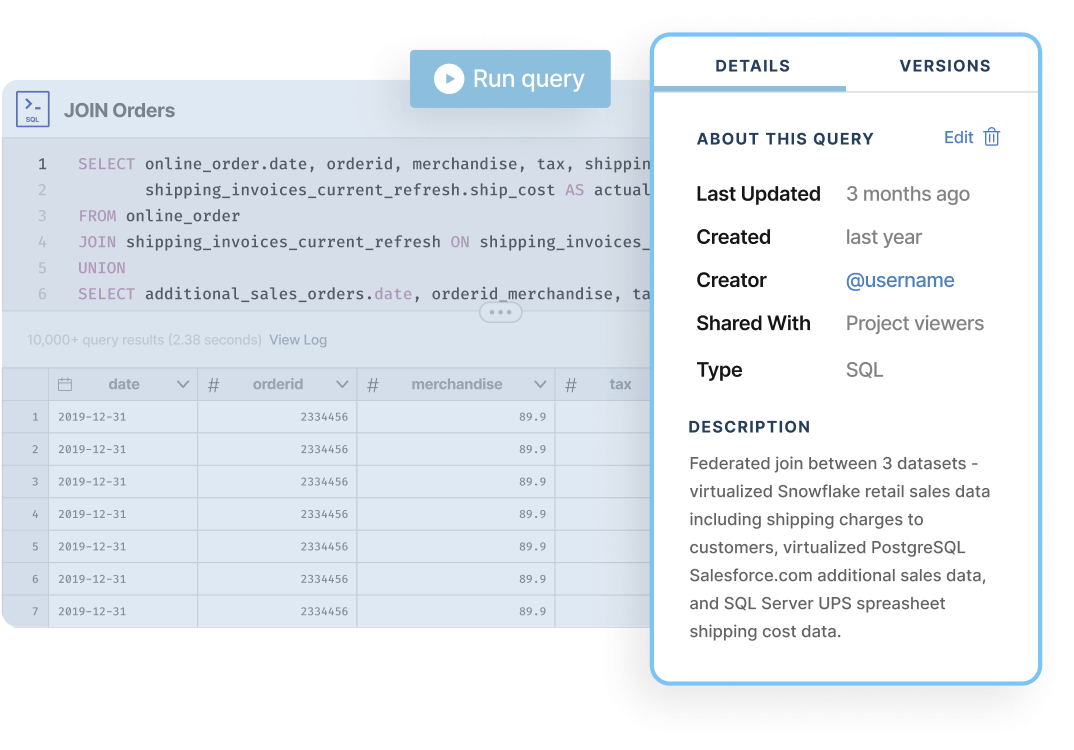 Source
data.world includes an enterprise data catalog as part of their metadata management system, which allows customers to develop reusable, scalable data and analysis.
The company has an agile development model and is continually releasing updates and feature improvements.
Why should you consider it?
The app's data discovery automates search and classification. This makes it easier for data stewards to locate and act on sensitive data inside the data catalog.

data.world relies on metadata collectors tools to aggregate and manage the metadata for all of your business data.
Informatica
The enterprise data catalog solution by Informatica is an integrated, centralized repository of metadata that provides a single point of access to all business intelligence assets. The software helps companies control their data assets and reduce operating costs by automating metadata management.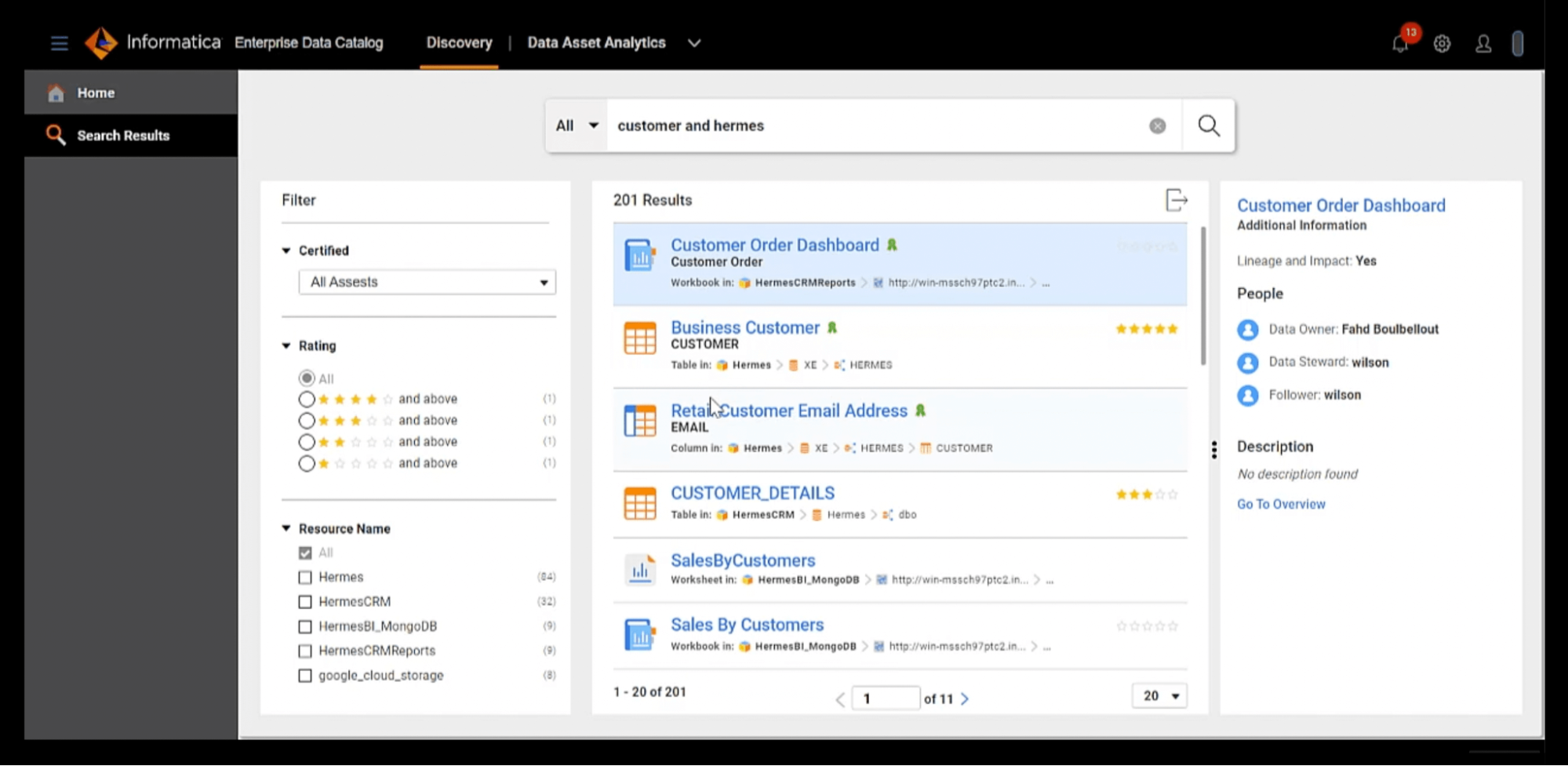 Source
Informatica data catalog is able to provide comprehensive details about organization-wide information assets such as databases, applications, web services, XML schemas, etc.
Why should you consider it?
Informatica's metadata intelligence engine is among the best you can get

A highly scalable architecture makes it a great option for organizations creating a cloud-based data lake.
erwin
erwin data catalog is a metadata management platform that helps organizations understand their data at rest and in motion. The product organizes both data and metadata, so teams are able to accelerate data management, analysis, and decision-making.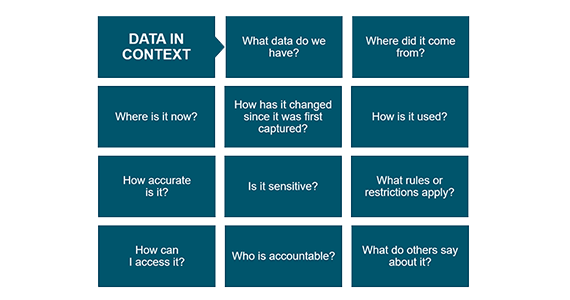 Source
Users can access data profiling and quality scoring while exploring synchronized metadata with data management and governance artifacts in real-time.
Why should you consider it?
erwin offers drag-and-drop mapping.

Enterprise data catalog and metadata harvesting included.
Apache Atlas
Apache Atlas is an open-source data governance and metadata management tool that allows businesses to collect, process, and maintain information more easily. The platform is able to track data processes and store data files, and metadata repository upgrades.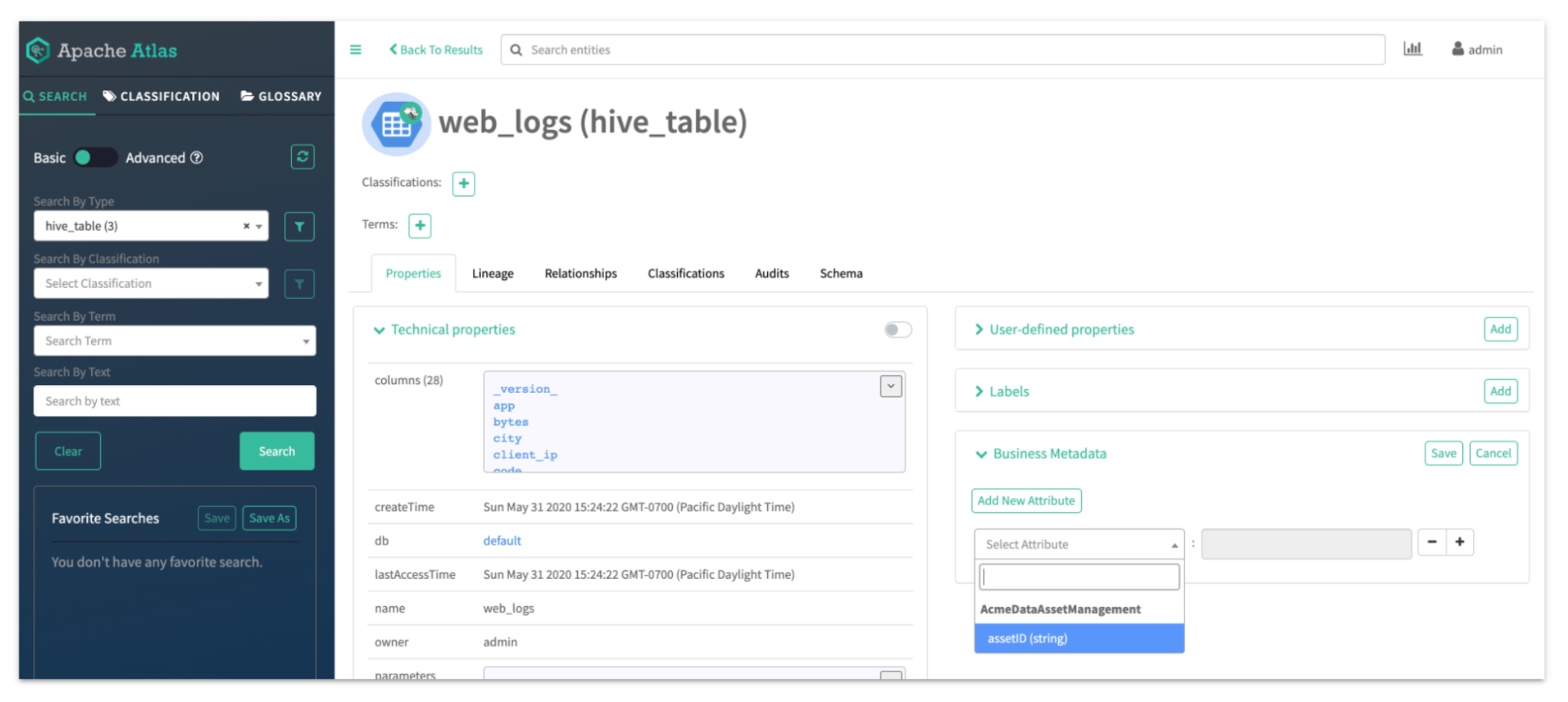 Source
Using Apache Atlas, teams can catalog their data assets, classify and manage databases, as well as collaborate on them with data scientists, analysts, and data governance specialists.
Why should you consider it?
Apache Atlas allows users to create and classify files, schemas, and tables, as well as to view data lineage through an intuitive user interface.

By enabling advanced data governance, the platform allows users to create new metadata types and instances and share metadata across teams through centralized analytics.
Infogix Data360
Infogix Data360 is a data catalog, data governance, and metadata management tool that was founded in 1982 and acquired by Precisely in 2021. In almost four decades, it helped data stewards in automating governance to provide granular visibility into data origin, usage, meaning, ownership, and quality.

Source
The Data360 catalog suite offers machine learning-based search and discovery, a smart business glossary, data lineage, etc. The platform is compatible with other Data360 products.
Why should you consider it?
Data360 uses AI to automatically detect and tag incoming data.
Provides automated enterprise and technical data search and does a great job in helping teams quantify the value of their organization data and manage data assets.
Hitachi Vantara
This company sells storage hardware IoT solutions, video intelligence, IT operation management software, and data protection software, as well as analytical and data management software.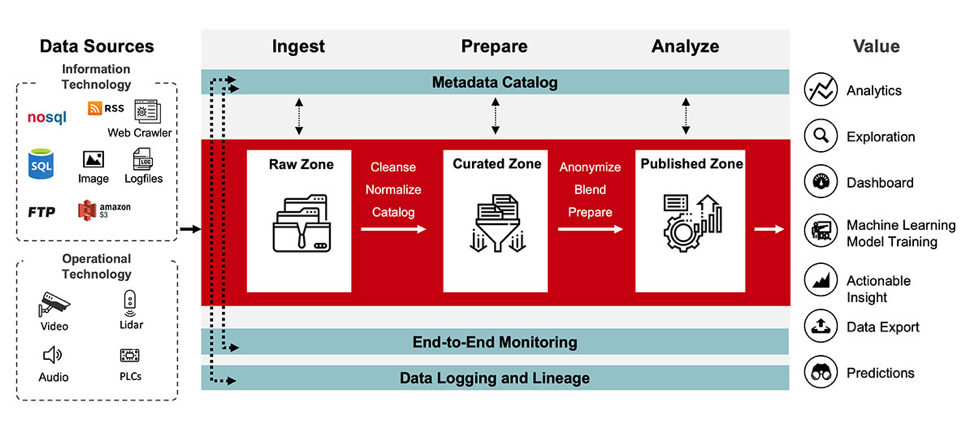 Source
Its data catalog platform offers advanced machine learning and behavioral intelligence capabilities. It provides faster data tagging and comes with features like AI-driven data discovery, end-to-end data lineage, self-service data access, as well as collaborations across different functions.
Why should you consider it?
Advanced machine learning and behavioral intelligence features
Lineage analysis features are among the best in the market
Alex Solutions
Alex Solutions is a metadata management tool that has both data catalog and data governance capabilities. Its primary users come from the financial service, telecommunications, retail, and utility sectors.
The software incorporates a data catalog, business glossary, policy-driven data quality, intelligent tagging, technology-agnostic metadata scanners, and workflow capabilities.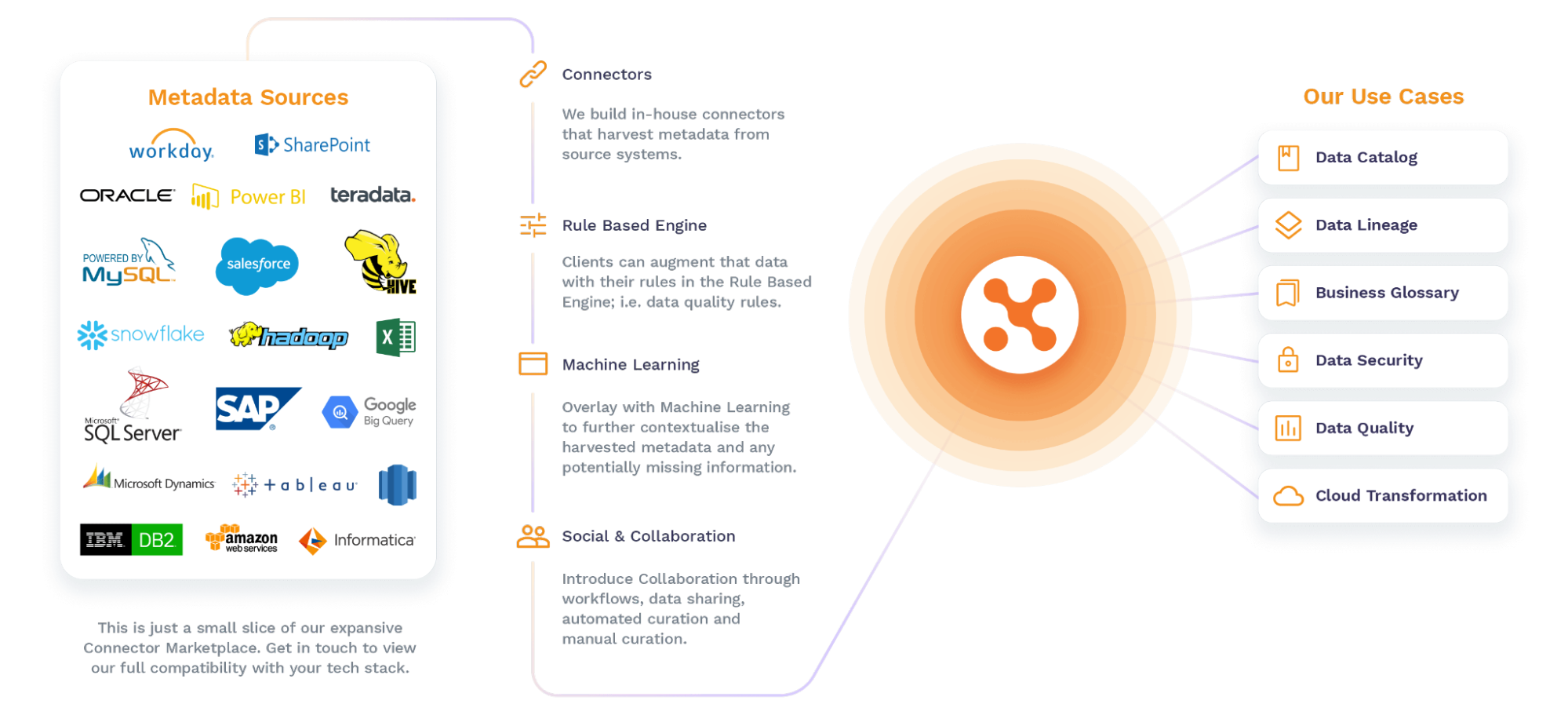 Source
Customers find it easy to deploy and use its metadata management capabilities for data inventory enrichment, sensitivity detection, data lineage support, usage analysis, risk management, and many other roles.
Why should you consider it?
An enormous range of capabilities

Great lineage profiling
IBM
IBM used to offer on-premise data catalog software as part of its InfoSphere line. Currently, it's relying primarily on its cloud-native IBM Watson Knowledge Catalog.
Users can deploy the IBM Watson Knowledge Catalog on the IBM Cloud or in a private cloud via IBM Cloud Pak for Data.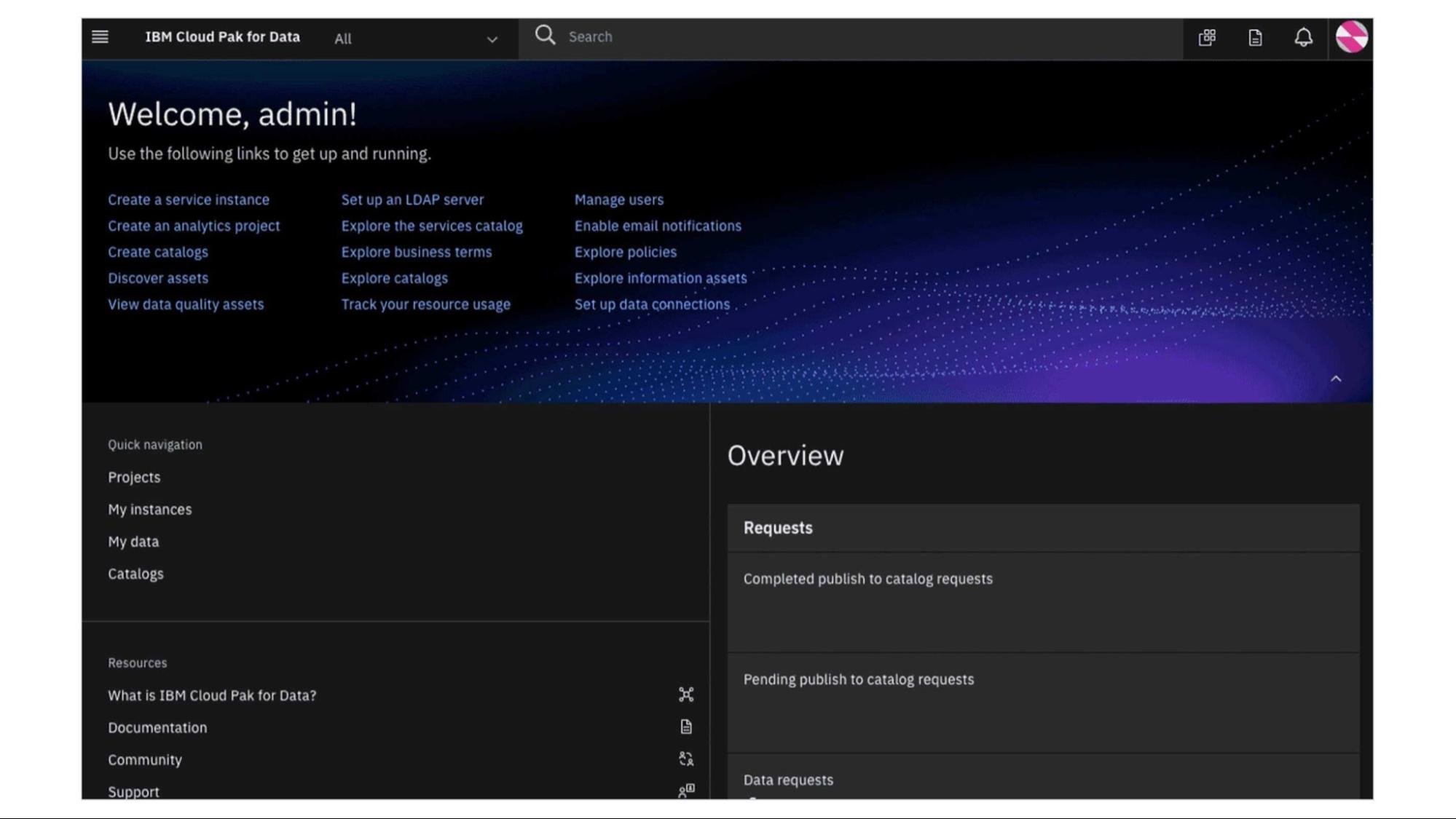 Source
The features that make it stand among competitors include automated data governance, intelligent discovery recommendations, an end-to-end catalog, quality scores, self-service insights, and data lineage.
Why should you consider it?
The platform integrates well with other IBM products and services

The Cloud Pak for Data solution is a good choice for enterprises with elaborate and complex ecosystems.

Qlik

Qlik Catalog can build a secure enterprise catalog of all the data your organization can collect for analytics, regardless of its physical location. The platform comes with automated data preparation and metadata tools, so it's able to streamline the transformation of raw data, as well.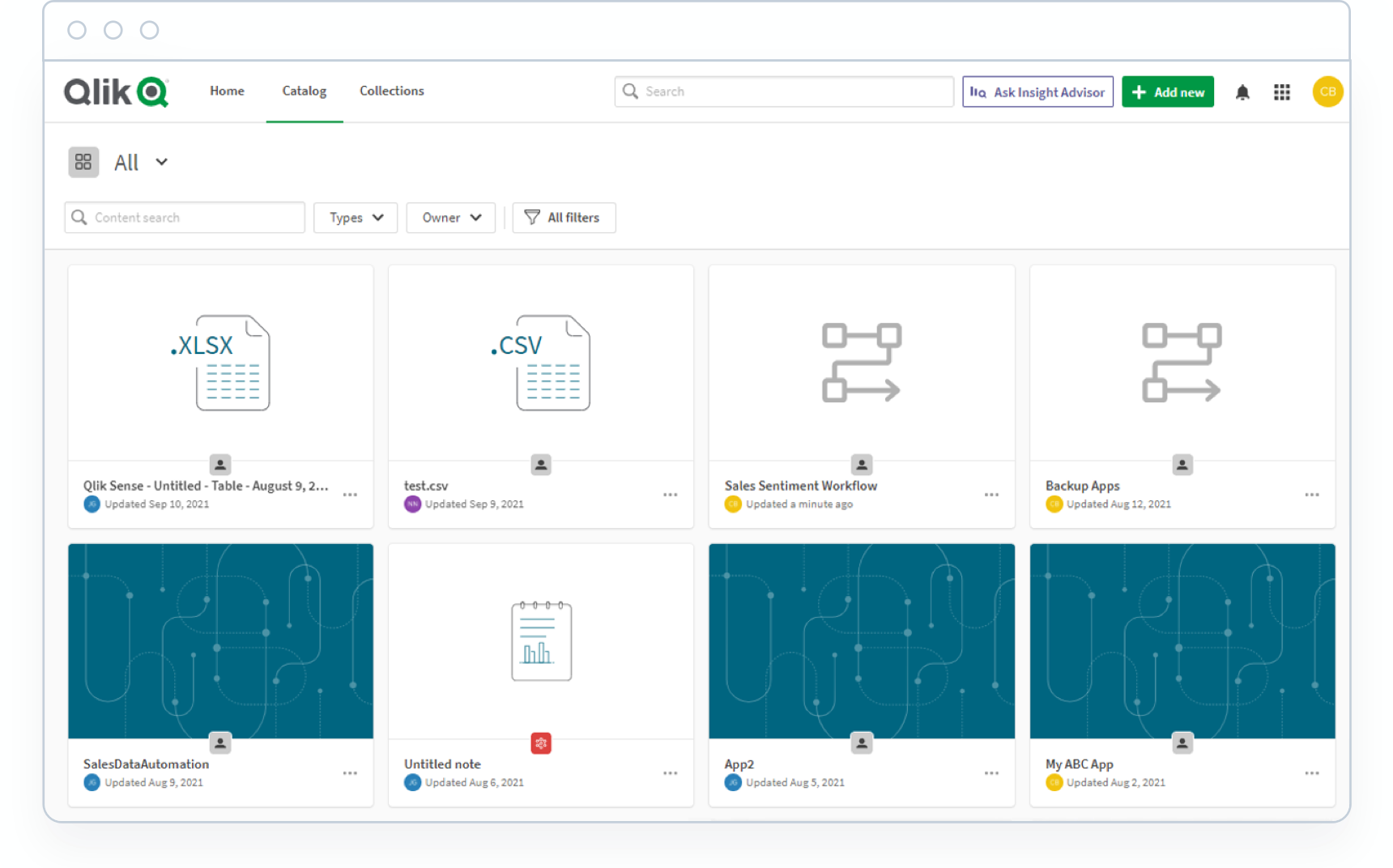 Source
Qlik features a self-service data marketplace where customers can shop for the data they need and share, export, or automatically publish it with Qlik Sense or different data analytic tools and applications.
Why should you consider it?
Shareable, centralized reports that can be shared with different groups within the organizations, like HR or Finance.
Formidable out-of-the-box visualizations for powerful storytelling using data.
Cloudera
Cloudera Navigator is a data governance platform that integrates data discovery, continuous optimization, lineage, audit, policy enforcement, and metadata management.
With Cloudera, teams can explore and tag data through a search-based interface. The app consolidates metadata while also supporting custom tags and comments. Cloudera makes it easy for users to track, locate, and classify data to comply with business governance and compliance.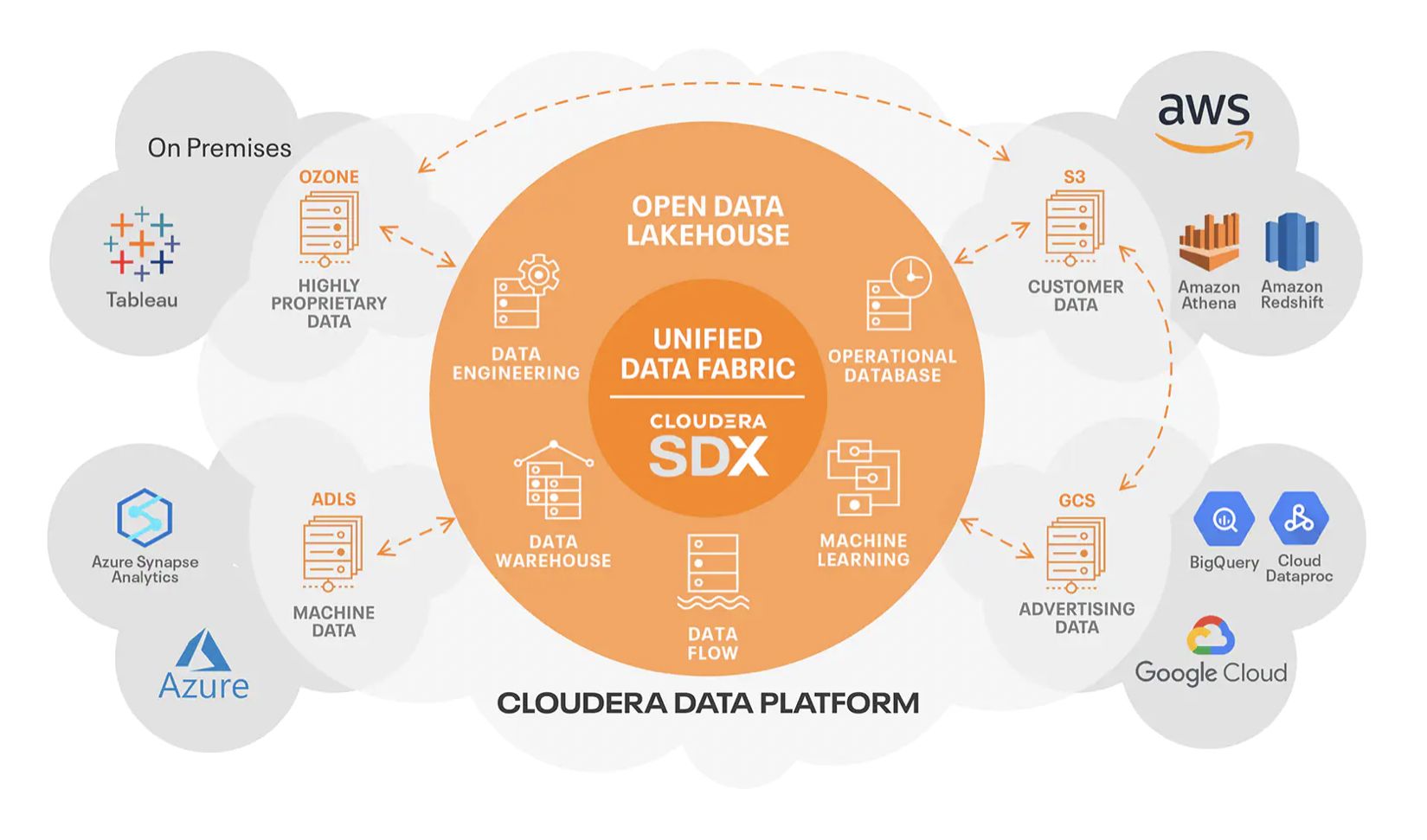 Source
The navigator dashboard provides widgets that visualize the presence of small files based on the files' owner, size, and location.
Why should you consider it?
Cloudera lets users view metadata through different dashboards, such as Data Stewardship Dashboard and Data Explorer.

Supports both multi-cloud and hybrid environments.
Tableau
Tableau Catalog gives its customers a complete picture of the data and its connections to the analytics in the Tableau environment. The platform automatically indexes all of these assets into one central list, so teams can see all the files, tables, and databases in one place.
Source
With Tableau, metadata and context are created when data is connected so users can confirm they are using the correct data in their analysis and reports.
Why should you consider it?
Create interactive visuals using drag-and-drop features.

Different types of visualizations with large amounts of data without impacting dashboard performance.
#
Wrapping up
Business teams, data analysts, and stewards often struggle with identifying the meaning of specific data, its origin, and the elements it's directly related to.
Data catalog tools have been created to solve the problem of time-consuming querying of resources by enabling automated discovery, tagging, cataloging, and organizing data.
Some of the data catalog tools on this list are built as pure-play software, while others are more versatile platforms that make great data catalogs thanks to their flexible APIs.
Whichever solution you choose, make sure it integrates easily with your existing systems and that it has a simple and easy-to-use user interface.