What is Omnichannel eCommerce?
Omnichannel eCommerce is a comprehensive approach to sales that aims to provide a smooth customer experience.
The past years have seen accelerated adoption of eCommerce.
At the same time, a Global Retail Study from Google finds that 59% of shoppers favor businesses with mobile-friendly sites and apps that allow them to make quick choices and purchases.
In such an environment, eCommerce businesses need to take every advantage of shifting trends and provide a seamless customer experience at every touchpoint.
This is where the importance of omnichannel comes into play.
What is Omnichannel eCommerce?
Anchor
Omnichannel eCommerce is a comprehensive approach to sales that aims to provide a smooth customer experience, whether the shopper is using a mobile phone, or laptop, or simply walking into a brick-and-mortar store.
There is a lot to be gained by meeting customers' needs and expectations on different channels. A study by Harvard Business Review shows that 73% of shoppers use multiple touchpoints or devices during their customer journey.
The findings continue to show that omnichannel customers love using retail touchpoints. They may use smartphone apps to find the product and browse through in-store digital catalogs to compare prices. They can buy online and pick up in-store, or buy in-store and have their purchase shipped.
Each app, digital tool, and shopping venue is seen as a separate channel.
Difference Between Omnichannel and Multichannel eCommerce
Anchor
At the very beginning, we need to explain the difference between these two strategies. They both share similar features and both are based on the concept that commerce and retail occur on several channels at the same time.
Multichannel eCommerce
Anchor
In multichannel eCommerce, a brand or retailer bases its sales on multiple channels. The idea is to make products and information available through all of them.
However, every channel works for itself and independently of the others.
A multichannel strategy assumes that consumers have different shopping preferences. Some only trust branded online shops, while others are keen to hunt for discounts on marketplaces like Amazon or Instagram.
In one way or another, the multichannel approach puts the product in the focus.
These individual channels are not integrated. The interactions of a customer or efforts of the marketing team are not shared between the channels.
Omnichannel eCommerce
Anchor
In an omnichannel strategy, a brand or retailer is also present on several channels at the same time, just like in the multichannel approach. However, omnichannel eCommerce provides full integration between the channels.
And what do those channels have in common? The customer.
This is why we often say that it is not the product, but the customer who takes the center stage in omnichannel eCommerce.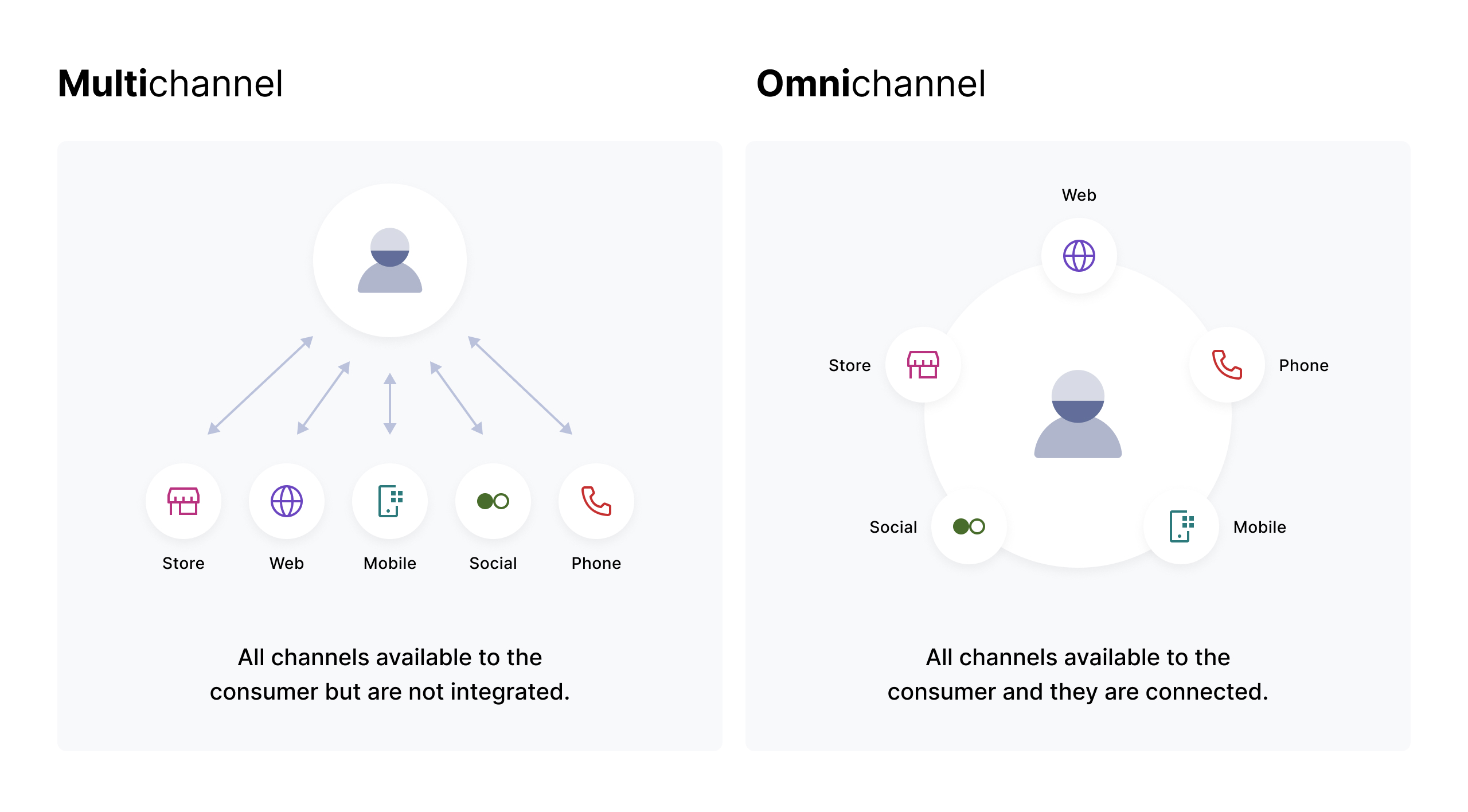 A customer may start searching for products on one channel, move to another to compare prices, and complete the purchasing journey on the third.
Because of this, it is important to provide a seamless customer experience as shoppers move from one channel to another by:
Providing them with answers and content of interest on any platform.
Leveraging the knowledge gathered on one channel into other channels the customer may visit.
While in the multichannel approach, the product is present in as many channels as possible, the omnichannel strategy goes much deeper.
The omnichannel strategy analyzes every stage of a customer's shopping journey, with the ultimate goal of providing the best possible customer experience.
Advantages of Omnichannel eCommerce
Anchor
The 2020 Marketing Automation Statistics Report has revealed that retail campaigns that use three or more channels have 287% higher purchase rates. Let's expand and explain the benefits of the omnichannel approach.
Cohesive and consistent messaging
Anchor
Omnichannel eCommerce lets you provide your customers with consistent and cohesive messaging about your brand or retail campaigns.
Consistent messaging is important in creating more personal communication with customers, especially on social media. Even if your social media account is managed by several people, customers want to feel as if they are writing to and hearing from one person.
With the omnichannel strategy up and running, wherever a customer chooses to interact with your brand, the messaging always remains the same.
By presenting a consistent tone and content, your customers will become accustomed to the brand voice and gain assurance upon which they can rely.
The omnichannel approach provides a unified and centralized database that customers can access through any channel. As a result, your products and promotions are more visible, while the information is readily available.
Most importantly, with an omnichannel strategy, brands need to collect customer data only once.
Such a holistic approach also means that companies don't have to create and push strategies for every channel.
Let's not forget that 81% of shoppers say that recommendations and posts from friends and family directly impact their buying decisions.
Personalization
Anchor
When you understand your customers' shopping habits, you can personalize your customer experience. In 2022, customers don't just expect quality products. They want to be able to find information about products they need quickly.
Knowledge gained through an omnichannel strategy allows brands to offer personal recommendations, such as the best available alternatives, competitive prices, and new-in products based on shoppers' previous queries and purchases.
Such a torrent of information that ultimately leads to a better customer experience can be challenging to handle without a dedicated tool such as a composable digital experience platform (DXP).
The composable DXP is a unique hub that links together all the services needed to build a memorable customer experience. This includes mobile apps, social media, eCommerce sites, traditional marketing efforts, and data analytics.
In the age of information overload and abundance of content, personalized messages always attract consumers' interest — because they talk directly to a specific customer rather than all of them at once.
Better Overview of the Customer Journey
Anchor
Brands and retailers who can track their customers over different but integrated channels can learn their preferences and offer better customer service.
For example, the omnichannel approach allows businesses to create more insightful offers that persuade customers to leave their smartphones for a moment and visit brick-and-mortar stores, where there is more chance for impulsive purchasing.
To give you a better understanding of the omnichannel approach, we also need to look at the challenges you need to overcome to successfully implement this retail strategy.
Data Synchronization
Anchor
A transition to the omnichannel model leads to a huge data transformation. One of the biggest challenges is how to synchronize all the data across the channels in a seamless way with no information lost.
One way brands can transform their customer experience is by using a dedicated content management system (CMS) for eCommerce and retail.
Hygraph helps deliver original content across different channels and devices. Content teams can manage all assets from a single repository, while developers easily navigate between product inventory management (PIM) systems and eCommerce APIs.
Initial Infrastructure Change
Anchor
Implementing an omnichannel strategy means that businesses need to make changes in their organizational structure.
In a traditional eCommerce layout, businesses likely have a marketing department and a separate online marketing department. Similarly, mobile support comes from the development department instead of the customer support team.
Keeping such an organization is difficult if you want to take advantage of the omnichannel approach.
These departments often work separately and these channels "work alone" in a multichannel mode, at best.
Instead, you can have a branding team that takes care of all offline and online branding and campaigns.
The branding team should work hand in hand with a sales team that is responsible for the customer journey and the coordination between different channels.
How Headless Architecture Helps You Go Omnichannel
Anchor
Headless architecture is a layout where the frontend (presentation layer) is separated from the backend (eCommerce functionality).
Headless commerce enables a modular approach to site architecture where developers use the best possible tools to build a custom architecture, "backed" by a powerful backend that grows over time.
But how does headless architecture benefit your omnichannel transition?
At this point, it should be pretty much clear how the omnichannel experience works — the customer can choose a product through an app and find a store to try it on, only to buy it online for an added discount.
The headless architecture supports an omnichannel approach because the backend functionality remains consistent no matter the channel.
This way, frontend developers can test and launch new channels using existing data from the headless commerce platform and present it in a new light, using a previously unexplored channel.
The other way round also applies — if an existing channel becomes obsolete, it is easy to remove it without disrupting the working ones.
As a result, businesses have more flexibility and opportunity to experiment with innovative channels. On the other end, by using the existing backend data, teams can build a powerful user experience in every channel they keep.
The omnichannel eCommerce has a vast potential to improve your customer experience, retention, and conversion across different channels.
In today's digital reality, consumers are effortlessly combining more and more channels, it is in your best interest to enable frictionless transitions for your shoppers.
If you want to offer a seamless and personalized shopping experience, you need to make sure synchronization between your retail channels is seamless, as well.