Digital content is vital for your business. From showcasing your product to sending your brand message to the public, it's what connects your business to the world.
As today's digital content gets more sophisticated, your users expect to see beautiful, responsive, and interactive content, from all types of devices. To impress them, you need to not just keep up, but also exceed their expectations. To achieve that, you need a smart, multilayered content architecture.
#
What is content architecture and why does it matter?
Content architecture refers to the way you structure and distribute your content on multiple devices. Just like making buildings, it's the process of designing and spacing your content.
But why exactly do you need content architecture today?
A content strategy used to be as simple as a plan to be implemented on your website. But today, you need to meet your users' needs by providing them with a holistic digital experience. You need to consider the stakeholders, processes, and technology involved. You no longer manage a single, but rather multiple-dimensioned content space. That's why you need your content to be architected.
A good digital customer experience can make or break your sales since 70% of consumers base their purchasing decisions on it. Content architecture bridges the gap between content strategy and content management. It enhances the digital customer experience and facilitates stakeholder communication by creating a scalable structure.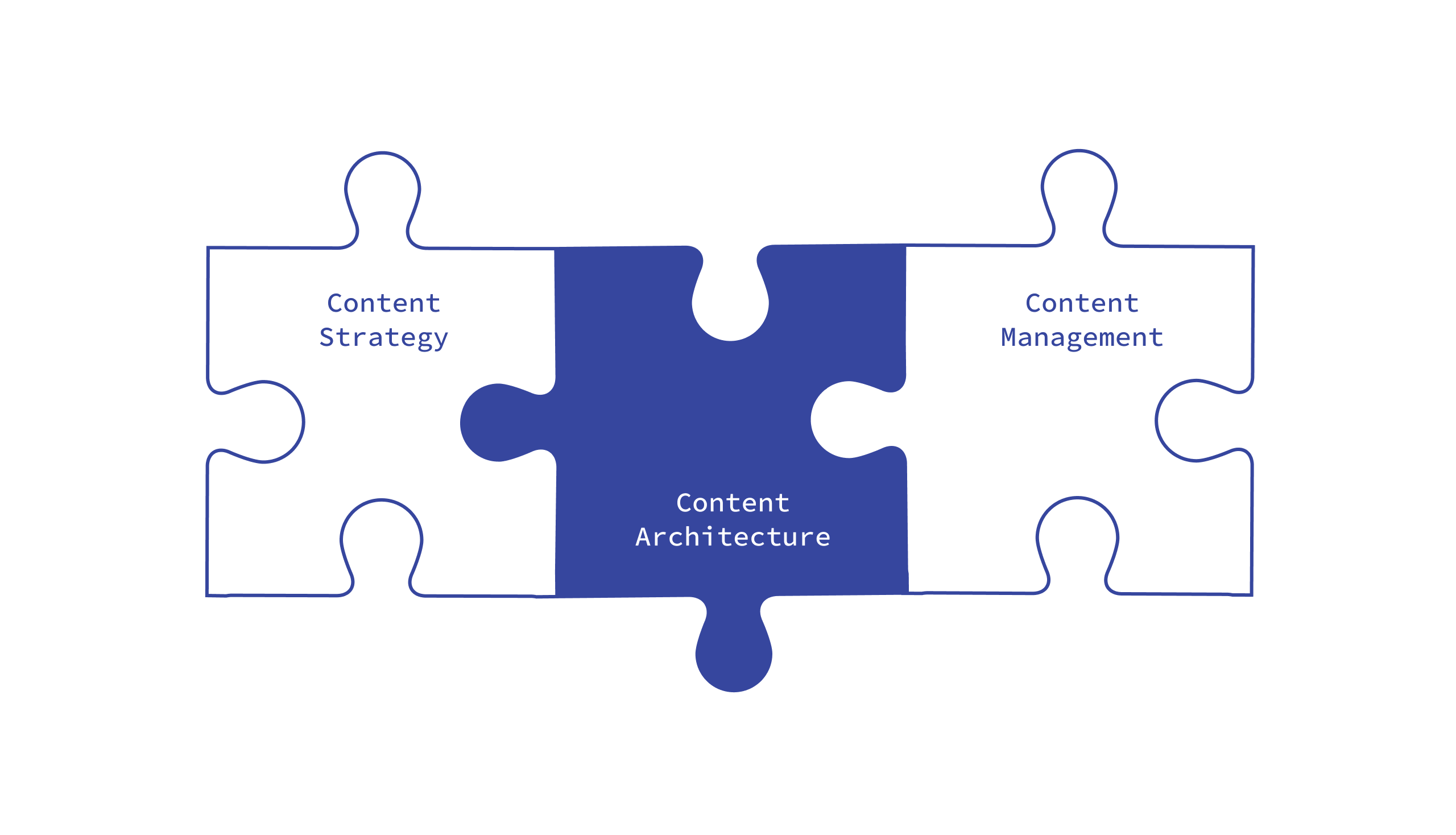 #
Content architecture vs information architecture
If you are familiar with user experience disciplines, you might have heard of information architecture(IA). Information architecture is the process of organizing, structuring, and labeling content so that users can find information and complete tasks. However, it's not the same as content architecture. Let's put it this way, the content architecture includes but is not limited to information architecture. While information architecture focuses on the user experience in the frontend, content architecture looks at the broader side of the content distribution and overlooks both the frontend and backend structure.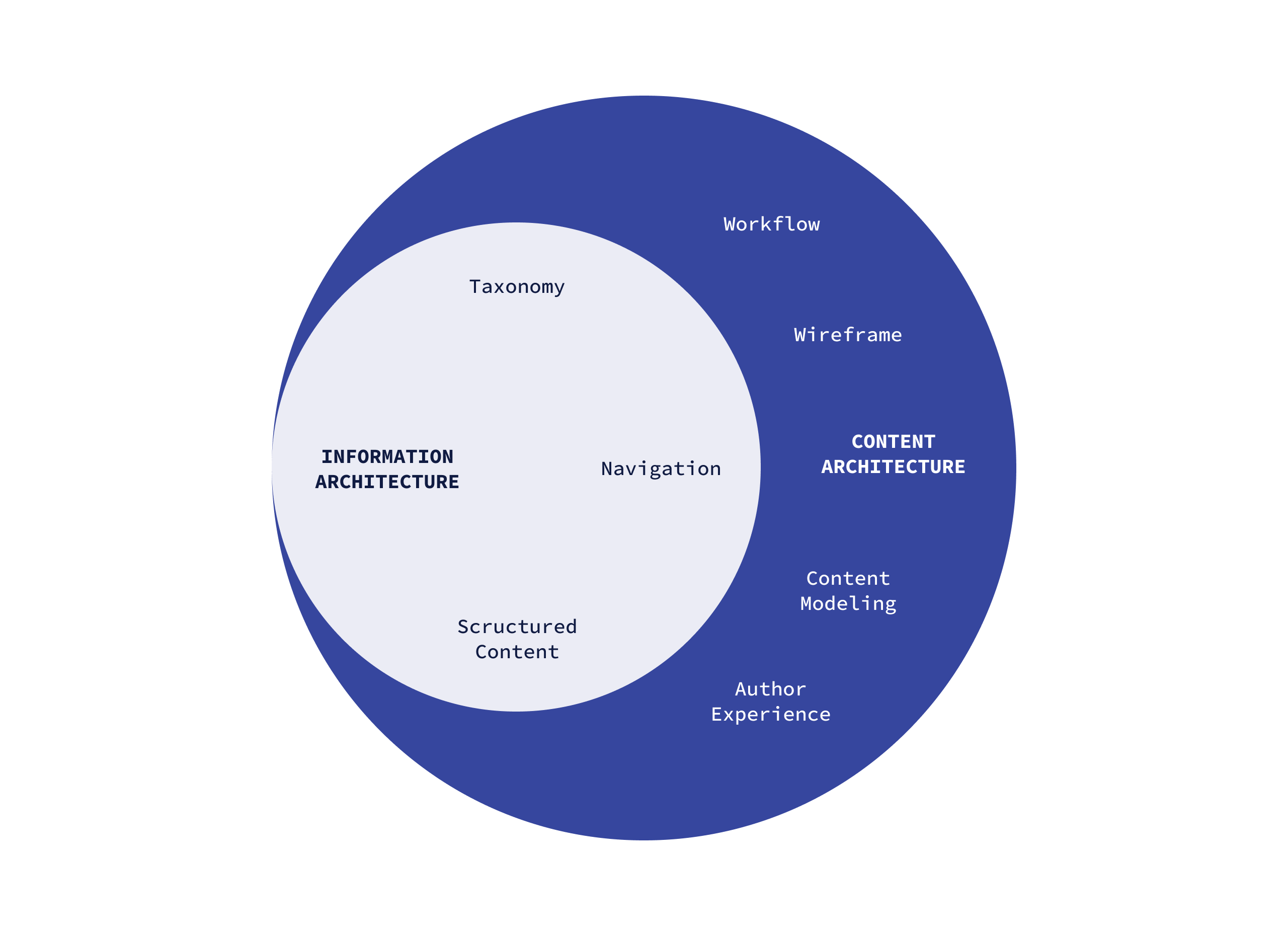 #
Key elements of a content architecture
Content architecture can be perceived as an umbrella. While it encompasses many components, the practice differs for every type of service.
Explore the Content Architecture Examples for your business:
When building your content architecture, here are some general key factors to consider:
Workflow
As we mentioned above, content doesn't work in a single dimension anymore. That's why overseeing and defining the end-to-end process is essential. A workflow outlines who is responsible for what, from content creation to content promotion. It describes the flow of each piece of content from one touchpoint to another. Efficient workflows enable teams to reduce the mismatch between content, design, and development. The luxury travel and vacation rental company Top Villas successfully enabled a high velocity of content creation with an improved workflow.
Content Modelling
Content modeling is the process of structuring the content that you create and distribute online into logical taxonomies. It helps you get a clear picture of what are the requirements and restrictions.
Modeling content collaboratively and intentionally leads to determining whether or not it will serve its purpose. If you need guidance on how to do it effectively, check out our post on content modeling best practices.
Wireframing
A content wireframe visualizes the content assets that you've created. Just like you need to prepare a mockup before developing your landing page, this visual process helps you understand the relationships between the various elements of your design: navigation, images, text, etc.
It is above all the element of your content architecture that helps to create an ideal environment for collaborative discussions about design solutions, supporting iterations, and encouraging rapid ideation.
#
Benefits of a smart content architecture
Even though it looks like everything regarding content architecture happens in the backend, when done right, it has a profound positive impact on your overall business.
It makes the best out of your content
Now that you have bridged the gap between the strategy and management of your content with architecture in place, you should expect to maximize the effectiveness of your content.
When content architecture is done right, your content will be delivered to the right audience, at the right moment. You can also overlook all the components and make sure that nothing is left out.
If you adopt your content architecture in a smart content management system (CMS), you should be able to build performant content, and key content elements like SEO and localization will be taken care of accordingly.
It also makes your content future-proof, able to scale to match your growing customer base and build pages that are compliant on all kinds of devices without having to rework pages as an afterthought.
Synchronized and efficient teamwork
To produce and distribute your content, your marketing team, development team, etc. will need to work collaboratively. There's nothing more frustrating than inefficient communication. A powerful content architecture, along with the CMS, should be able to reduce the friction between different teams to bring the best out of them.
You can expect your content team to create exceptional digital experiences in the way they define while saving the development team's time. The tech stack should be flexible enough for any stakeholder to incorporate their needs seamlessly.
Enhanced digital customer experience
In the content-as-a-Service world, your users have the ultimate call. A successful content architecture should be able to meet customer expectations, deliver a personalized experience and omnichannel content, and ultimately retain customers and drive revenue.
An effective content architecture allows you to make the content look exactly how you wanted on different pages or devices. Your customers will be impressed by the consistency of your messages.
#
Content architecture best practices
To get the most out of your content architecture, here are some best practices you should consider employing.
Make it easy to manage between stakeholders
UX designers, content strategists, SEO experts, developers… There are only so many stakeholders involved in the content production process, and not every stakeholder has the same background. That's why it's essential to make it easy for everyone involved to bring the best out of the teamwork.
The solution to an easy-to-manage structure is flexibility. Learning a specific CMS code and its hosting environment to use a content management system can be left in the old days.
You should employ a CMS that your team finds easy to deliver omnichannel experiences at scale, globally, without restrictions like templates, devices, or pre-defined technologies, so that they can focus on building exceptional experience, and reduce repetitive work.
Assess what you need
Your content architecture should suit your needs. If you are only creating a corporate website or portfolio, a single-layered content architecture and a traditional CMS might be enough and handy to use.
However, if your business serves across websites, mobile applications, IoT devices, or even more digital products, and your content needs to be localized in high demand, you will need a flexible architecture that evolves with your business. An additional point is to enable the reuse of your content across any channel to minimize the time invested.
Leverage the cloud-based CMS
So now you have made a flexible content architecture that can be easily managed across different teams, what's next? It comes to the point where you need to find the right technology to support you to host your architecture.
For businesses that wish to adopt a content architecture to meet the demands of the multichannel world, a headless CMS might be the best choice.
#
What is a headless CMS?
A headless CMS is a content management system that delivers content as data over an application programming interface(API), rather than heavily coupling it to a specific website or mobile app. But in the meantime, unlike decoupled CMS, you can flexibly build your content for any type of presentation layer.
Headless CMS allows you to focus on what's important so that you can deliver a better digital experience to any channel. At the same time, it doesn't try to control your presentation. It only provides the content through its API. Additionally, it offers better security and scalability.
#
Hygraph: the smart Federated Content Platform for headless content architectures
Hygraph is the first native GraphQL Federated Content Platform. Over 50,000 teams around the world trust Hygraph to create, enrich, and deliver content programmatically.
With Hygraph, even the most ambitious projects are easy to set up and scale, and its API-first approach allows businesses to continuously drive innovation.
Start building your business with a composable architecture that is ready for tomorrow, check out the Hygraph product.