The Dr. Oetker story
As a global leader in the Food and Beverage industry, the Oetker Group was looking to increase their digital platform offerings to end consumers and modernize their digital operations. This project included upgrading the websites, web-apps, and portals for all brands under the Dr. Oetker portfolio.
Dr. Oetker has commissioned AKQA to assist them in the project. With the recipe platform as the foundation, the migration project aims to drive digital transformation and build business capabilities. The project involved breaking through legacy monolithic tech stacks and switching to a microservice-first, performance-focused stack.
After several rounds of evaluation with AKQA, Dr. Oetker has chosen Hygraph as their content platform for its MACH-certified APIs, the ability to handle multiple brands, scalability, and intuitive user experience to build a future-proof platform.
Project challenges
Streamline local technical solutions
Dr. Oetker has a presence in more than 40 countries. Historically, the local marketing units have used the company tech stack in different directions. With their portals and websites built on combinations of Pimcore and other platforms, the team experienced inconsistency across brands, decentralized development processes, and slower update cycles.
Unify data silos
Dr. Oetker's data was stored in silos and not in one database, as a result of fragmented technical infrastructure. They were unable to leverage the power of data at full scale, which hampered their ability to generate insights and launch relevant marketing campaigns to build relationships with consumers.
Enhance end user experience
Traditionally selling wholesale products, Dr. Oetker faces the challenge of converting offline customers to online customers. Since Dr. Oetker's digital platform offers many popular recipes that drive traffic to the website, they need to create meaningful touchpoints so they can implement first-party data to gain a better understanding of consumers.
Project needs
Centralize technical power with a composable platform stack
To achieve a scalable future, it is necessary to be able to host country-specific websites and different apps from the same stack while not being tied to a single system. This is where an API-based headless approach comes in. Using a solution that enables retrieval of assets from different systems and leveraging the infrastructure and work already done, Dr. Oetker can leverage the cost synergies they have built up over time.
Harmonize infrastructure to manage stakeholder globally
With the project being rolled out in 40 countries and eventually across all sub-brands, stakeholder management is crucial. Dr. Oetker needs to create a seamless infrastructure for the team to feel comfortable to work with. It is essential to have a clear hierarchy and custom roles for each job function. The purpose is to keep a single source of truth while permitting different teams to request permission based on their localization needs.
Extend meaningful digital offer to generate first-party data
In order to convert offline users to online, Dr. Oetker must remove existing barriers to logging into the recipe platform, identify value-added services, and extend relevant touchpoints. The solution should provide a sustainable infrastructure that facilitates data transfer between different consumer touch points, as well as connecting many valuable microservices to the system via APIs.
Hygraph's solution
Dr. Oetker assessed together with AKQA to choose a technology and eventually decided on Hygraph for its unique approach to remote data fetching, the ability to handle granular permissions across brands & projects, high-performance MACH APIs, and an intuitive UI that the content editors loved.
The solution used a microservice-based, API-first headless architecture, that is fully in line with the MACH concept.
MACH architectures, in a nutshell, are several services that do one or a few things extremely well, coming together via API, to create highly optimized stacks that do what is expected of them based on a business's needs. By switching from a monolithic system to a MACH stack, teams can be innovative and agile, while using a stack that is enterprise-ready and secure.
A few of the key Hygraph features that contributed to this project's success include:
Headless architecture to enable sustainability & distribution flexibility. A centralized tech stack that is also composable, not page-centric. Through Hygraph's solution, different assets can be served and retrieved to different systems and made available not only now, but also in the future.

APP Framework to integrate data from different sources while PIM in the recipe database remains the source of truth for everything and present content on products, recipes, storefronts, and other tools.

Automated functionalities to simplify local processes and leverage cost synergy. The conversion, compression of images, the automatic optimization of page templates and many more, which helps to handle multiple brands across multiple workspaces with ease.

Granular permission system for market/brand specific permissions so that each team only needs to see the relevant content when working inside the system. Editors can easily edit products in the guide content section from the UI extension.

Intuitive user experience makes Hygraph easy to use, for multiple teams across various geographies.
The current setup
As the AKQA team started to decouple services, the reliance on the previous stack is no longer an obstacle. Dr. Oetker's brands are now powered by Hygraph.
With Hygraph's flexibility to integrate with any external platform, Dr. Oetker was able to streamline their business processes and ensure compliance while managing multiple web instances simultaneously.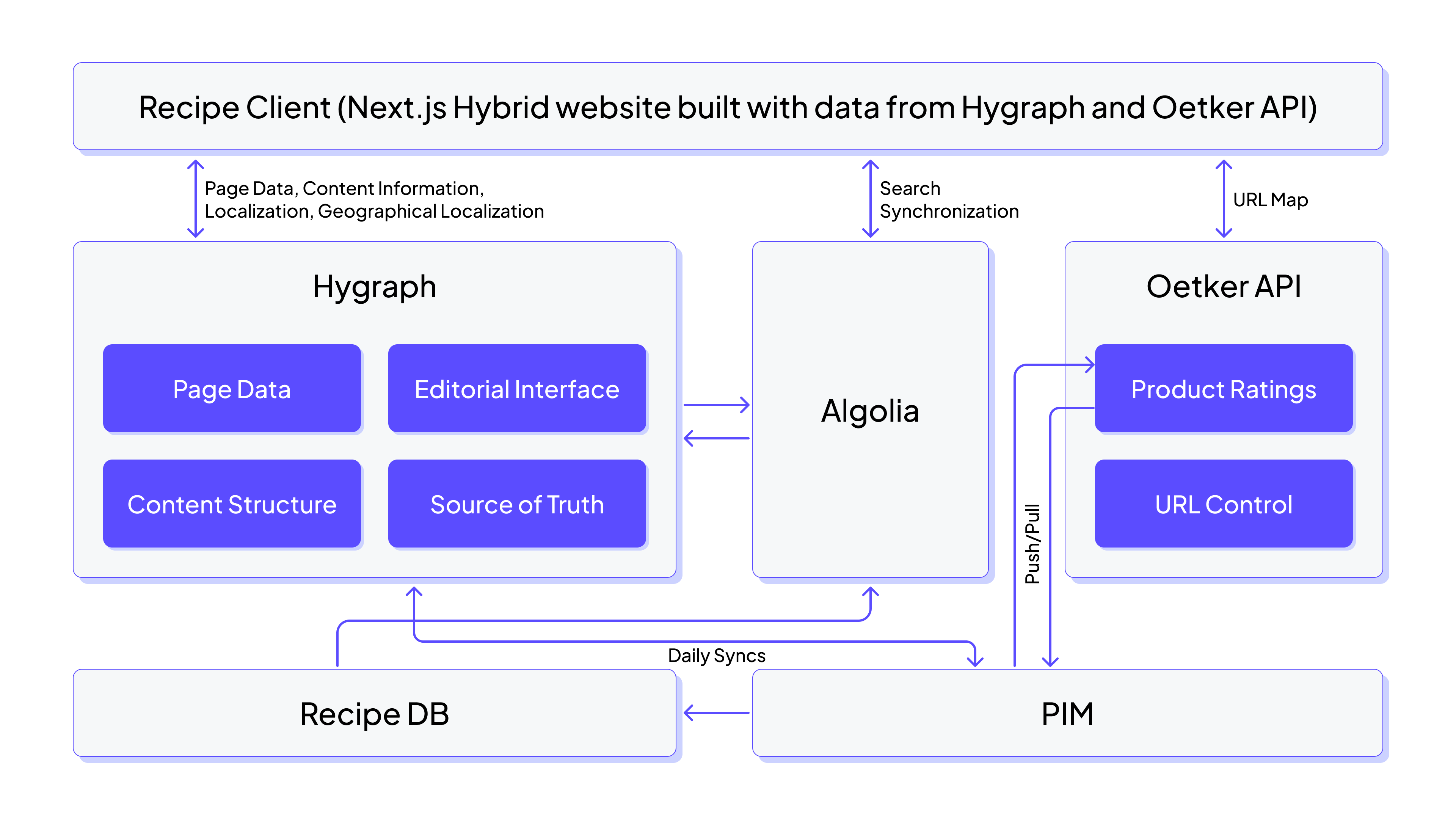 Hygraph was integrated with the following platforms:
Next.js was chosen as the state-of-the-art front-end framework which allows hybrid static & server rendering and will support the international roll-out to up to 40 markets with seamless and high performance. Next.js is the perfect choice for a modern headless architecture.
Algolia as a search API: Algolia does not only empower Dr. Oetker's platform search and discovery capabilities but also serves as an integrated content feature which allows regional content manager teams to select and combine recipes, tips and tricks as well as products within Hygraph for optimized search results. Combining Hygraph's content capabilities and Algolia's outstanding indexing and search features, content managers and editors are able to tie content and search results for each market with the tip of a finger.
Force.com as the Customer Data Platform
Elasticsearch to pull recipes from internal database and PIM
Marketing tools like Google Tag Manager, Universal Analytics 360
Key benefits
Modernized stack to better leverage cost synergy and technology
Centralized infrastructure to manage brands across 40 different countries and subsidiaries
Harmonized consumer experience and improved customer engagement rate
A single source of truth for content consistency and reusability