The way consumers shop has changed dramatically in recent years. Gone are the days when people only shopped in brick-and-mortar stores. Today, more and more people are shopping online. This shift has posed a new challenge for businesses: how to provide a seamless customer experience across all these new channels?
In the dynamic landscape of eCommerce, efficiently managing product catalogs is crucial for maintaining this seamless consistency. As consumer expectations continue to evolve, traditional catalog management approaches fall short in delivering consistent digital experiences.
In this blog, let's explore the significance and intricacies of eCommerce catalog management within the ever-evolving world of online shopping.
#
What is eCommerce catalog management?
At its core, eCommerce catalog management involves the systematic organization, categorization, and maintenance of product information across digital channels to provide a seamless omnichannel eCommerce experience. It ensures that accurate and up-to-date product details, including descriptions, prices, images, and specifications, are consistently available to customers across platforms.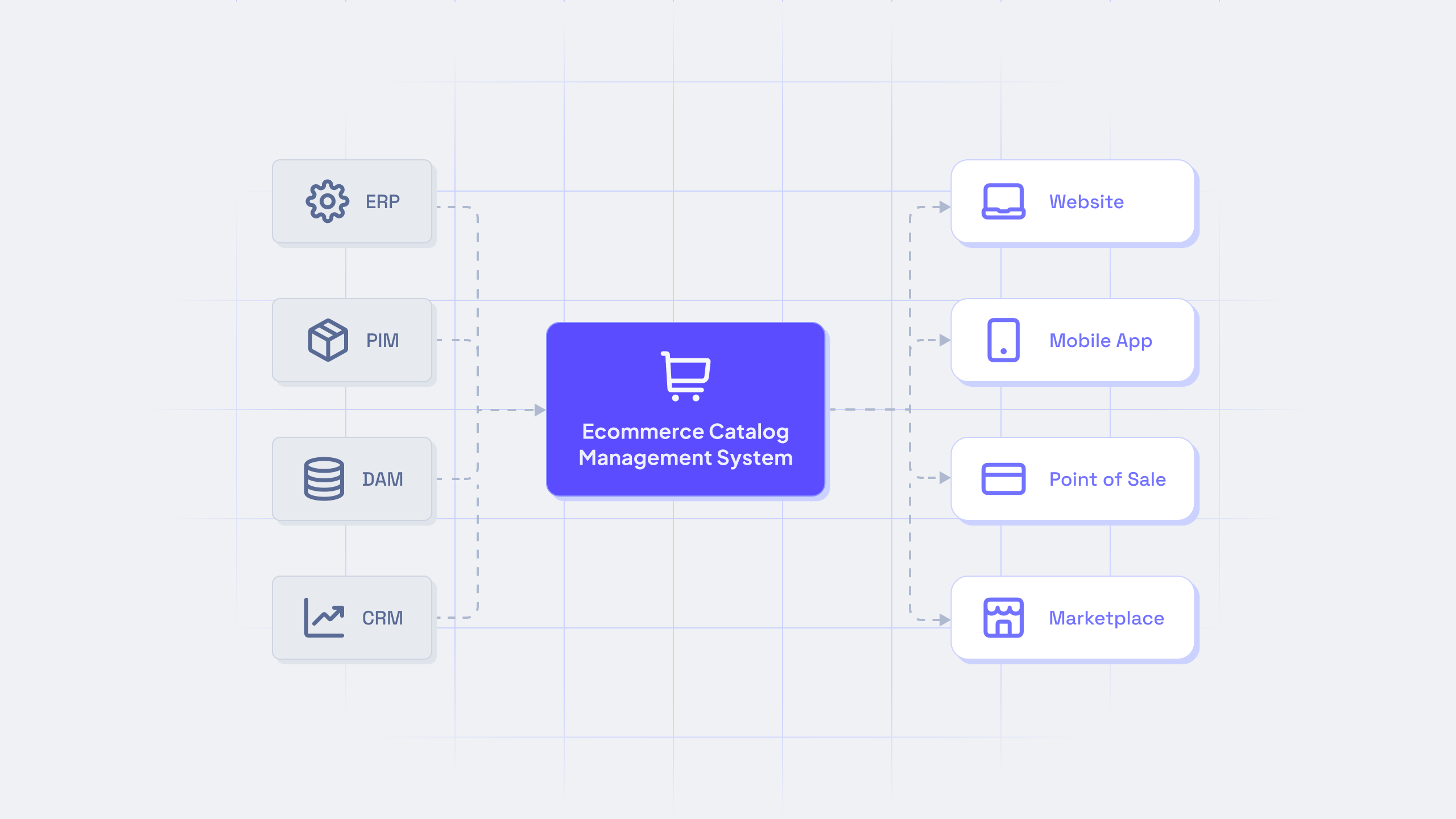 View eCommerce catalog management in full resolution
As consumer expectations continue to evolve, traditional catalog management systems built on web-centric legacy stacks are no longer sufficient. The previous approach of manual data entry in static web shops falls short in delivering dynamic experiences required by modern consumers.
According to the PwC Future of Customer Experience Survey, a single bad experience can result in a business losing 32% of its customers, emphasizing the costly impact of errors in catalog management.
To address these challenges, modern catalog management tools empower eCommerce retailers by automating complex data entry and facilitating efficient management of diverse catalogs. These tools enable seamless integration and accurate representation of product data stored in various systems, such as Product Information Management (PIM), Digital Asset Management (DAM), and Enterprise Resource Planning (ERP) systems, across multiple channels.
#
Why does eCommerce catalog management matter?
Enhanced customer experience
A well-managed product catalog enables customers to find relevant products quickly, leading to higher engagement and conversions. It ensures a seamless shopping journey, where customers are always supported, and their inquiries promptly addressed, fostering a sense of trust and satisfaction.
Improved operational efficiency
By centralizing and streamlining catalog management, businesses can eradicate manual mistakes, minimize unnecessary duplication of efforts, and boost overall efficiency, ensuring faster time-to-market.
Increased competitiveness
The rise of D2C businesses is upon us, and established eCommerce players are facing more competition than ever. With better margins and agility, D2C brands pose a grave threat to selected eCommerce retailers. To stay competitive, online retailers must manage and optimize their product catalogs effectively, showcasing their unique offerings, highlighting their brand value, and ultimately retaining their customer base.
#
Challenges of legacy catalog management tools
Handling large volumes of data
ECommerce businesses face the daunting task of managing and organizing large-scale content entries of product-related data. The sheer scale of data makes it crucial for online retailers to implement robust catalog management systems that can seamlessly handle the complexities of synchronizing, streamlining, and updating product data.
Businesses can effectively tackle this challenge to enhance customer experience, boost conversions, and reduce churn rates. Lick, a home decor eCommerce retailer, achieved a 20% increase in the "Add to Bag'' conversion rate after the adoption of Hygraph to launch their new webshop.
Hygraph provided them with a global content API, enabling unified catalog and product management through a single orchestration layer, improving scalability and site performance.
Dynamic catalog updates
With frequent product updates, price changes, and inventory fluctuations, managing a dynamic catalog manually through simple spreadsheets can be time-consuming and error-prone. Your business needs a modern tech stack with real-time synchronization and automated product catalog updates across channels.
Tracking user behavior
In a cookieless world, tracking and analyzing user behavior becomes complex, requiring user consent through various touchpoints in loyalty programs with members-only content to keep customers up-to-date regarding product innovation. Delivering such personalized experiences is critical for customer retention. Your eCommerce catalog management tool must be able to link to such marketing platforms, enabling you to gather valuable data to understand customer preferences better and make product decisions accordingly.
By leveraging Hygraph, Samsung experienced a significant boost in its loyalty program with around 10% more members joining, resulting in an approximate 15% rise in overall customer engagement. Additionally, the streamlined processes for content updates have reduced the number of developer hours required for such tasks.
Achieving an omnichannel experience
To deliver consistent experiences across various channels, including websites, mobile apps, and social media, eCommerce businesses must overcome the limitations of traditional tech stacks. One effective solution is implementing an API-first eCommerce catalog management system, like Hygraph. This advanced system facilitates the seamless integration of microservices and APIs, ensuring a cohesive and consistent eCommerce experience across all platforms. The API-first approach enables smooth and unified interactions no matter which platform that customer chooses to access business-related information.
Cross-functional stakeholder management
Catalog management involves collaboration among internal and external stakeholders involving various departments, including marketing, sales, and IT teams. A unified catalog management approach is required to achieve seamless coordination, empowering cross-functional teams to work efficiently with consistent messaging.
#
ECommerce catalog management best practices
Provide accurate product information
Ensuring accurate and comprehensive product information is crucial for building customer trust and making informed purchasing decisions. Businesses can centralize and standardize product data, ensuring consistency across all channels. This approach guarantees that customers receive reliable and up-to-date information from a single source of truth, fostering trust and confidence in the brand.
Break down data silos
One effective strategy for efficient catalog management is breaking down the data silos between different systems and departments. Integrating various data sources through a unified orchestration layer, like Hygraph, allows businesses can streamline operations and access all their data through a single API. This eliminates the need to switch between multiple legacy systems or disparate tools, improving organizational productivity and efficiency. Burrow, a high-growth D2C online furniture retailer, used Hygraph to build an agile eCommerce solution to manage product inventory with over 20,000 variations:
Build consistent digital experiences
To deliver a seamless omnichannel experience, brands must use modular content to match customer expectations with increased content velocity. Hygraph empowers businesses to reuse content modules across multiple platforms and content types, enabling faster time-to-market while minimizing developer hours.
Furthermore, updates to individual modules can be made universally, saving time and effort by simultaneously implementing changes in all relevant instances.
Utilize a catalog and inventory management tool
To overcome the challenges of managing large volumes of data, frequent updates, and multiple stakeholders, businesses can leverage eCommerce catalog and inventory management tools like Hygraph. These tools provide a centralized hub to organize, update, and synchronize product data, ensuring accuracy and consistency across all channels.
#
What's next?
Hygraph offers a comprehensive solution for eCommerce inventory and catalog management, revolutionizing online retailers' operations. By embracing Hygraph's API-first approach, you can standardize data points from sources like PIM and DAM into a consistent schema. You can then deliver personalized and unparalleled Product Detail Pages (PDP) with seamlessly integrated rich content experiences, including product sliders, previews, promotions, and compelling CTAs to captivate your audience, drive conversions, and foster lasting connections.
Dr. Oetker used Hygraph to eliminate data silos by removing the legacy tech stack they previously used. With Hygraph's microservice-first platform, Dr. Oetker managed to centralize infrastructure and streamline local marketing units in 40+ countries, improve the end user experience of their Recipe platform, and swiftly launch into new markets by simply replicating the current environment.
To experience the power of Hygraph in transforming your eCommerce business, request a demo today.
Blog Author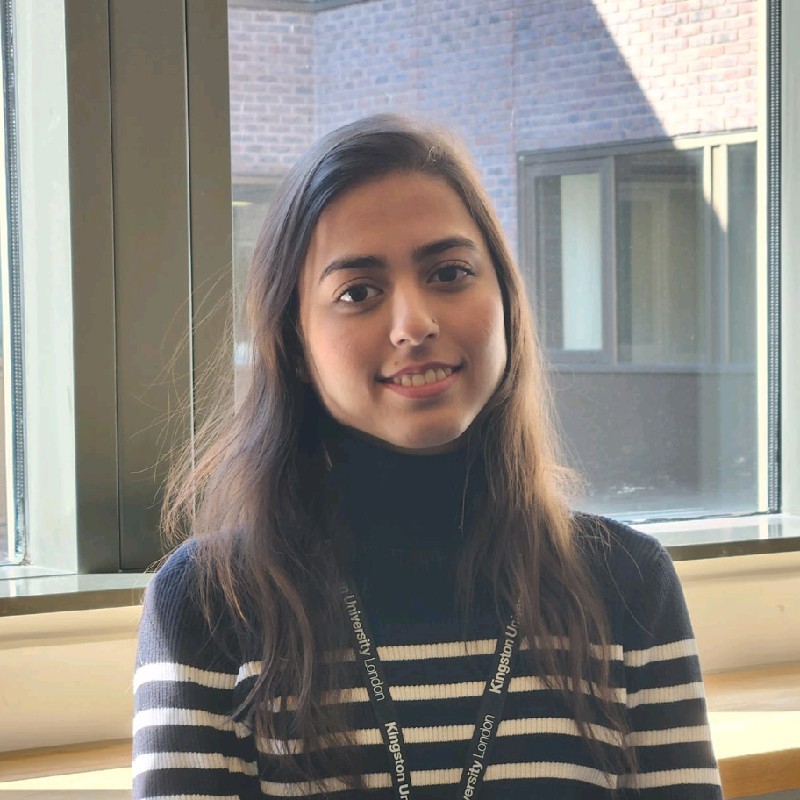 Sabika Tasneem
Content Writer
Sabika is an experienced Product Marketing Professional passionate about crafting engaging content. Beyond her professional pursuits, Sabika loves immersing herself in the world of literature, exploring diverse cultures, and fueling her creativity through writing.