There are many use-cases in which changes to content stages need to be planned for in advance. To ensure that content operations proceed smoothly, Hygraph now offers the ability to schedule publishing and unpublishing your content.
#
Introducing Scheduled Publishing
Scheduled Publishing has landed at Hygraph. All Hygraph users now have the ability to schedule their content items to be published or unpublished in the future. Additionally, users can create releases to bundle items that should be published or unpublished at the same time. This new feature will automatically be available in your Hygraph project.
Content can be part of multiple individual schedules or releases, making sure that you can build up a cadence. Examples for this would be scheduling the publishing and the unpublishing of content in advance, or releasing different localizations at different times.
Explore the Scheduled Publishing user guide →
#
Scheduled Publishing in Hygraph
Scheduled Publishing is a powerful tool that gives both individual users and content teams control and flexibility over their content with the ability to plan in advance. With Hygraph's new feature, users can publish in two different ways: publishing entries individually, or tie content pieces together as part of a release.
#
Scheduling Individual Posts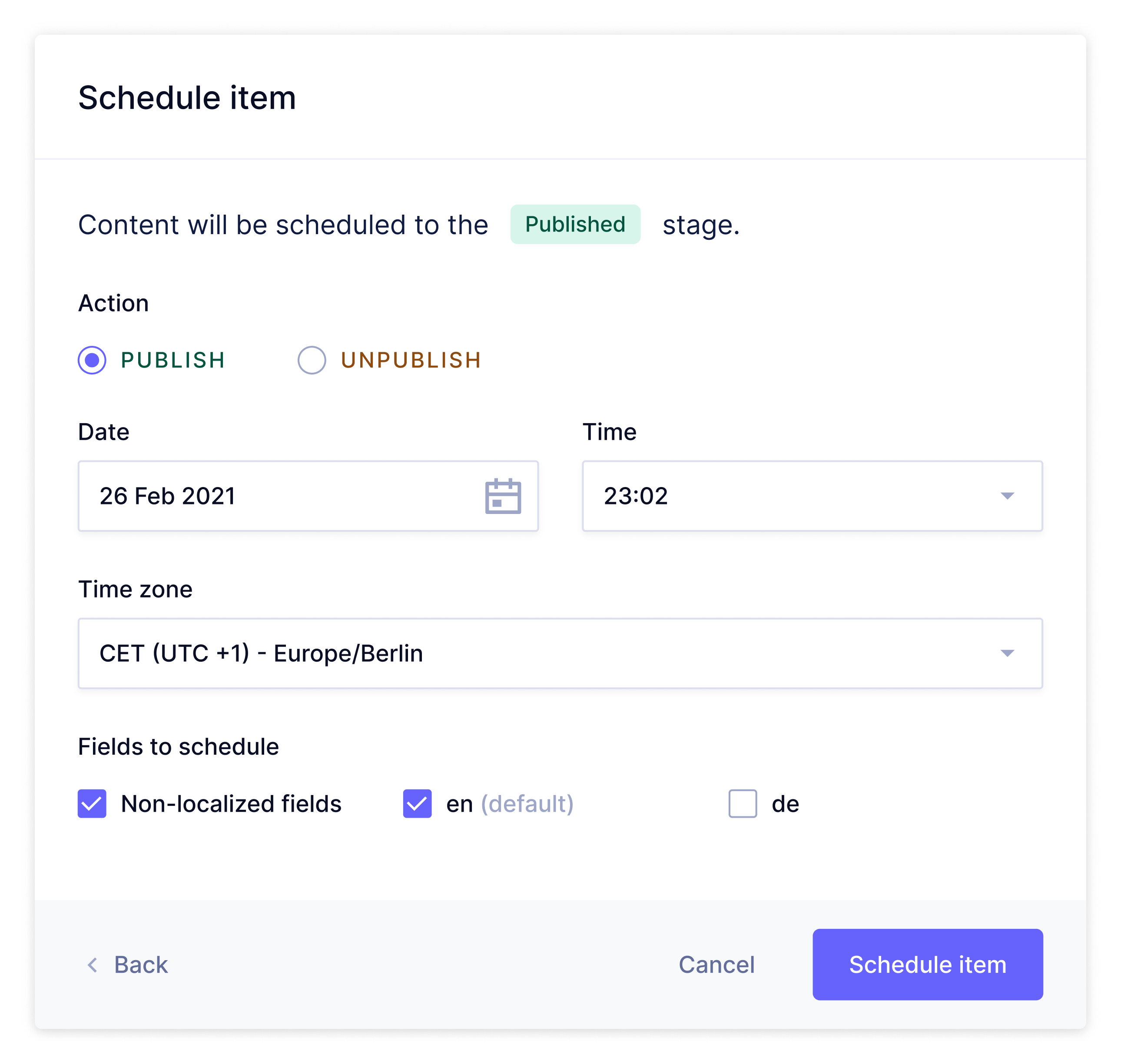 Scheduled items allow content teams to plan for content entries being published (or unpublished) ahead of time, individually, and per locale.
Taking a common scenario, if teams are planning to post or unpublished an announcement tied to a date (such as a Christmas blog post, or a promotional landing page), they have the option to define the time periods for when this entry should be in a certain stage, and avoid needing to manually update them every time a change is required.
#
Scheduling "bundled" Releases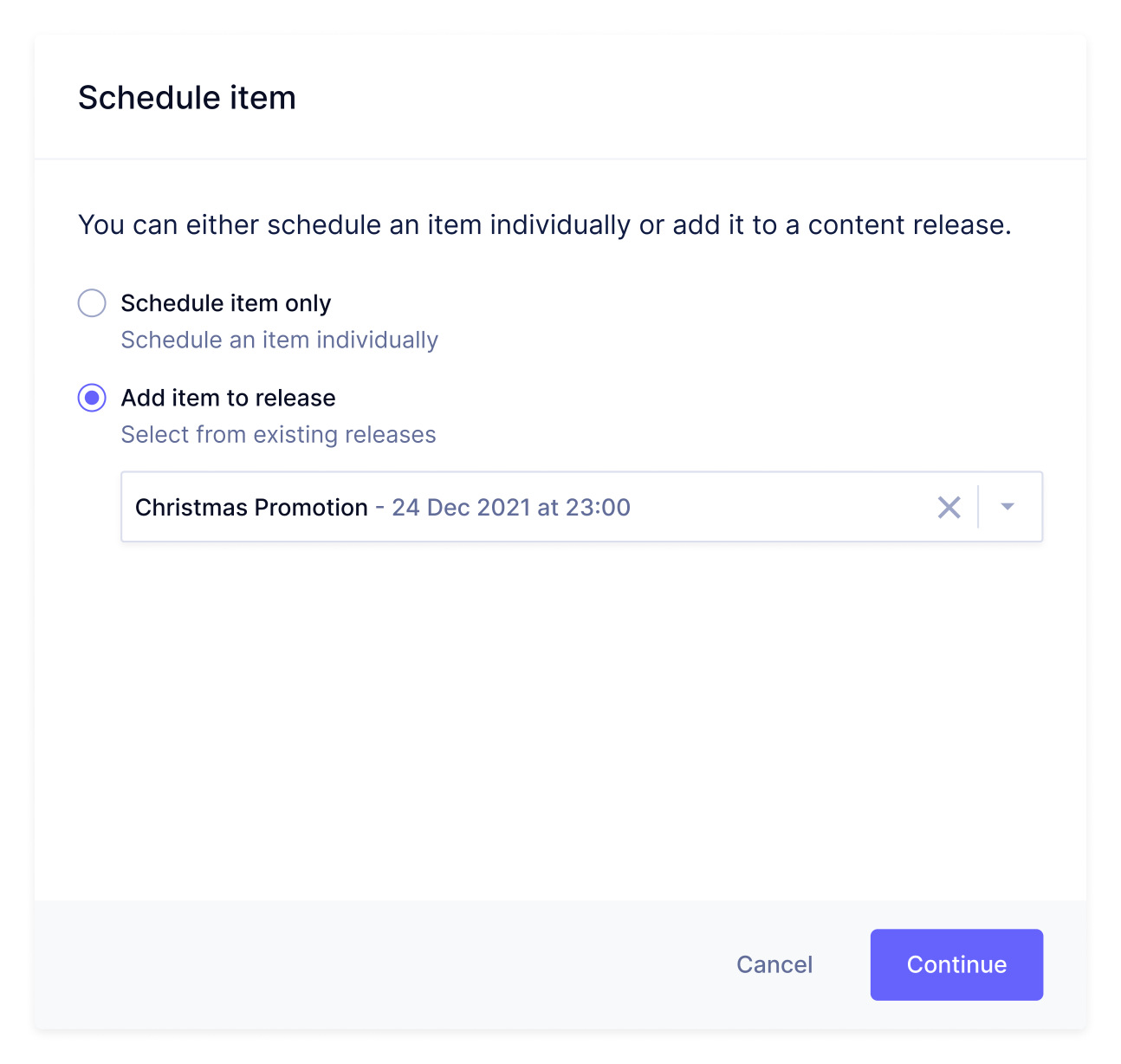 Releases are what Hygraph calls content bundles that should be released at the same date and time. The release section of the Hygraph project gives users a birds-eye view over all the content that will go out tied to that release on a particular date, and a few ways that users and teams can group content according to a particular posting strategy.
Let's take a common content-heavy example like Black Friday. Content and advertising teams can create different timed-release bundles in advance according to their promotional strategy as there are different needs of communication starting well in advance of the actual Black Friday promotion.
Releases allow teams to map content to launch in parallel with external promotions like commercials, other digital or traditional media buys or promotions. While grouping within a release dictates the publication date and time, teams can also create multiple releases based on content type, locale, and language, ensuring teams can manage content globally without being tied to their computers.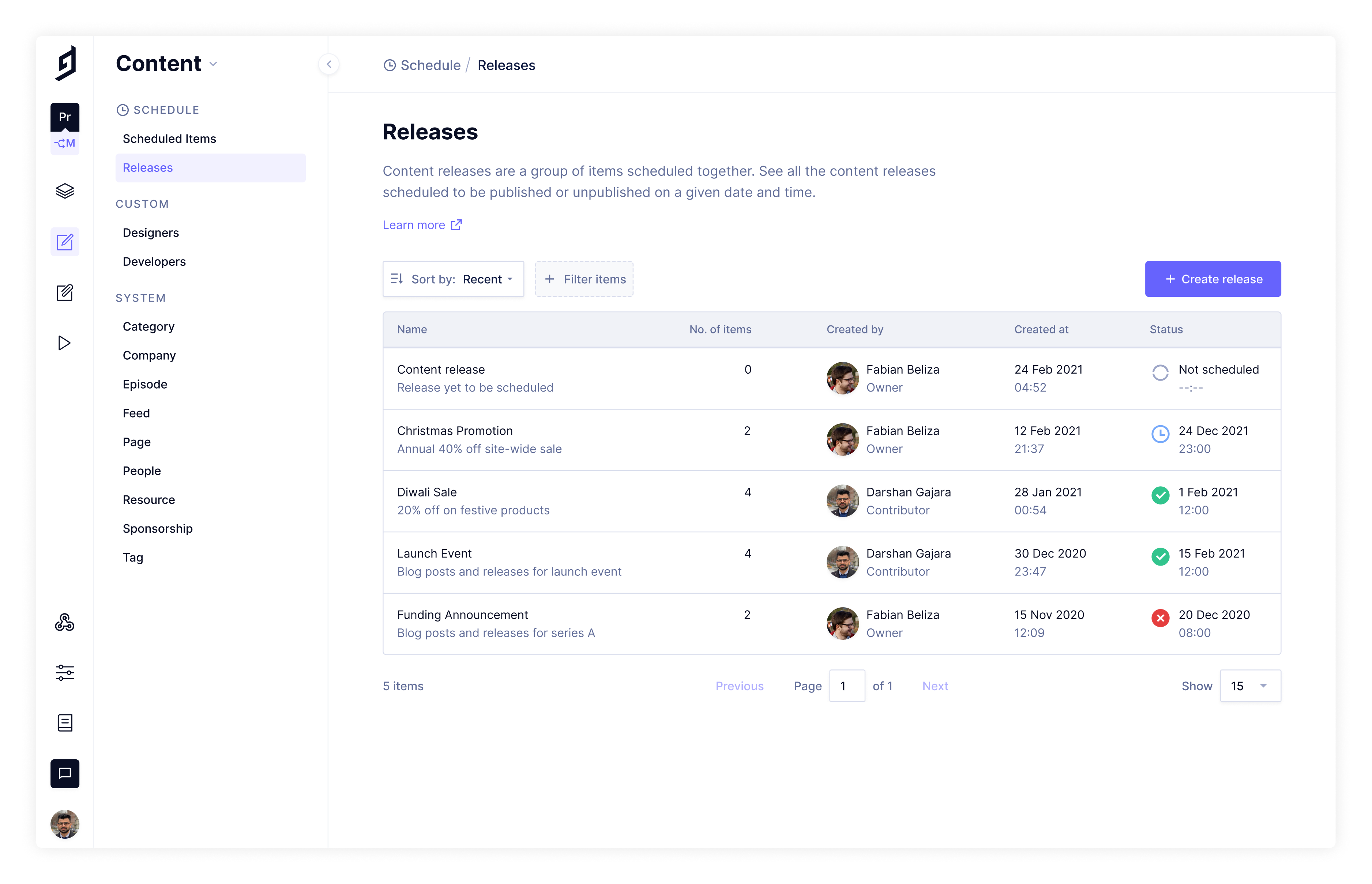 Releases have many other benefits for teams including:
The ability to schedule campaigns or promotions across multiple touchpoints like website, social media, and more without being tied to their computers upon launch.
Stay organized by giving teams a birds-eye view over all content going out in a release in one unified platform view.
Free up time to focus on other aspects of the business by creating content months in advance.
Analyze content easier with the ability to map exactly when content went out, track each item's progress from a defined date, and understand what content resonates with your audience.
Depending on the industry, Scheduled Publishing can also help audiences remain engaged with new content set to release on a particular schedule.
Relieves stress on creative teams, as users can create in advance or whenever available.
Creates transparency internally. Teams can see release overviews or individually scheduled content pieces, so everyone can better understand what has been done and when content is going out.
The Fine Print
Scheduled Publishing is available to all Hygraph users, but with certain restrictions for now. Overall, you can have up to 200 pending scheduled items or releases in total in your project per environment. Each Release can have up to 50 content entries within them.
Sign up for a free Hygraph account to take Scheduled Publishing for a spin and share your feedback with us by joining our community→
Blog Authors
Alexandra Buckalew
Bruno Scheufler
Julian Mayorga
Abdullah Emin Ak
Mahaveer
Martian Lee