#
TL:DR
Something big is in the works! We're redesigning the Hygraph interface to make it even more intuitive and optimize its performance. Stay tuned for the grand reveal!
Improvements to the new high-performance endpoint.
New apps for Scaleflex and Mux.
Sneak peek: improved disaster recovery and OAuth authentication support for Remote Sources.
#
Upcoming: new Hygraph interface
This quarter, we started to work on something ambitious; a redesign of the Hygraph interface.
This has been crafted for optimum performance, with a more intuitive user interface, and is packed with numerous new UX features.
During the transition, we will offer an opt-in period for users who prefer to continue using the current interface for a while longer.
Here's what this new experience will offer:
Improved performance: It is designed to perform faster, with a smoother and hassle-free user experience.
Quicker enhancements in the future: With better maintainability, it will allow us to launch new features and improvements much quicker.
New features: It will include Field Outlines, a new Command Menu (CMD + K), a redesigned Asset Management and Content Table, and improvements to Roles and Permissions.
Read more on the new Hygraph interface →
#
Improvements to the high-performance endpoint
At the end of 2022, we began developing a new approach to edge caching and introduced a high-performance endpoint for the content API, recognizing that API performance is crucial for an improved audience experience.
We have made significant improvements to our new endpoint in the past few months. This includes partial cache invalidations based on models and stages
We are thrilled to announce the release of another significant enhancement. Our highly sought-after GraphQL Mutations capability, previously exclusive to the regular endpoint, is now available for the new endpoint.
The launch of GraphQL Mutations for the new high-performance endpoint, along with partial cache invalidations makes it our most advanced endpoint yet. We've also received great feedback about the new endpoint from the community and have planned several improvements to it for the future iterations.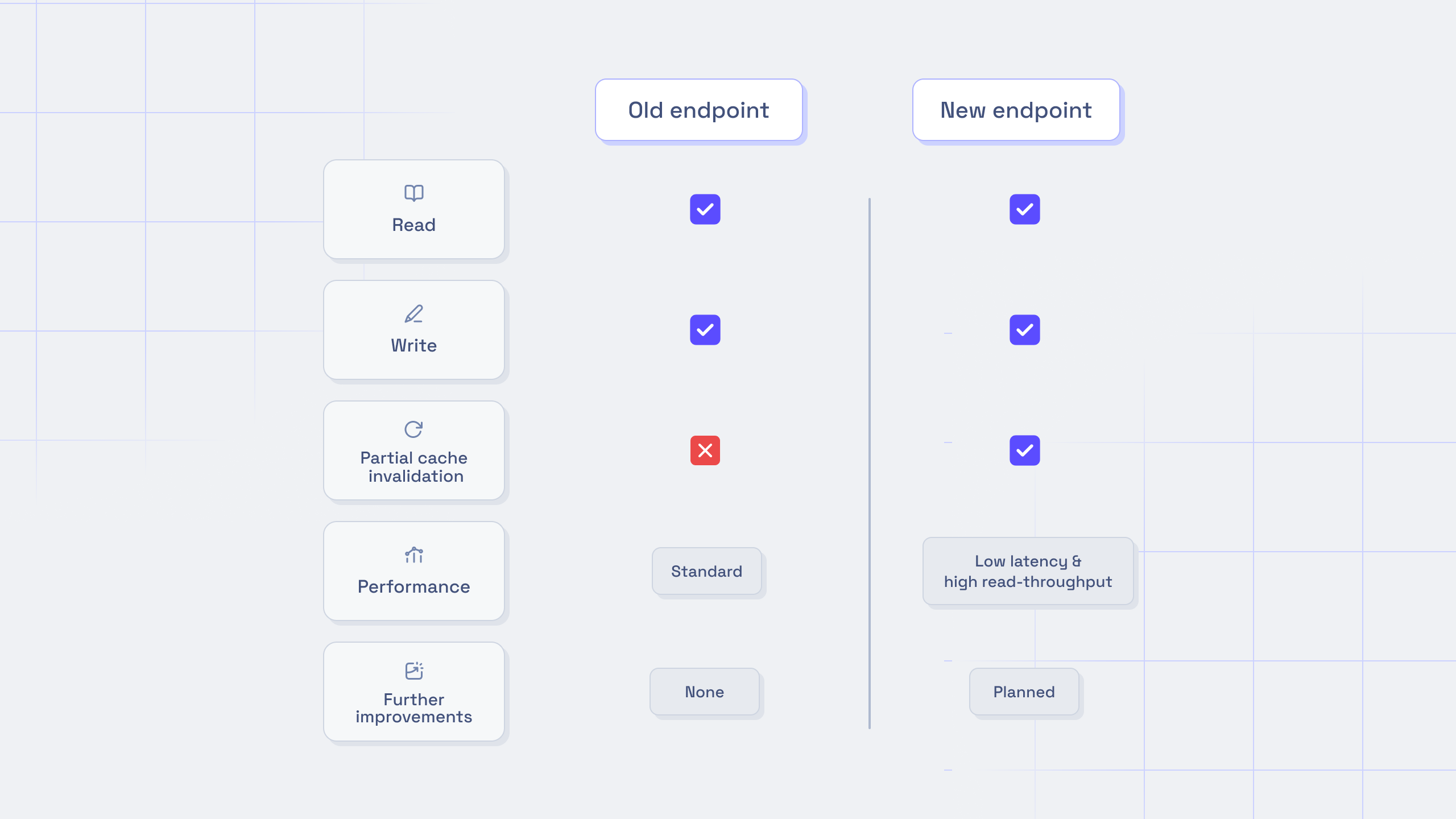 We have decided to replace the old endpoint with the new and improved high-performance endpoint in the upcoming new Hygraph interface.
As we gradually make this change, the old endpoint will no longer be visible in API settings in the new interface. However, rest assured that the old endpoint will continue to deliver content and there won't be any breaking changes.
To switch to the new endpoint, go to project settings > API Access. Copy the URL under the high-performance content API, and replace it with the existing endpoint in your frontend application.
Read more on the improvements →
#
New applications
We have added two new applications that allow content teams to link and manage digital assets stored in other systems from within the Hygraph interface.
Scaleflex
Scaleflex's Filerobot, is a MACH certified technology that assists teams in uploading, storing, processing and sharing images, videos, and static content around the world. Its API-first approach makes it compatible with a range of systems.
The new app allows content editors to add assets from Scaleflex Filerobot or upload new ones in Scaleflex Filerobot directly from the Hygraph interface.
Users can also transform assets and benefit from Filerobot features such as background removal, activity logs, metadata management, etc.
Check out the Scaleflex integration on our marketplace →
Mux
Mux offers a platform to solve video-related challenges that teams face, and offers capabilities such as on-demand video catalog, live-streaming, and more.
The new app allows content editors to add live or on-demand videos from Mux or upload new ones in Mux directly from the Hygraph interface.
Mux offers signed URLs to secure videos, and you can benefit from this functionality by adding in the required keys during app installation.
Check out the Mux integration on our marketplace →
#
Important: deprecation of UI extensions
In order to offer greater platform extensibility, earlier this year, we introduced our framework for building custom apps.
The new app framework was created to offer enhanced customizability compared to our previous UI extensions, and we have received outstanding feedback from the community and partners who have built apps since its launch.
Hence, we have decided to deprecate our legacy UI extensions when we launch our new interface.
If you are using UI extensions in your project, we'd recommend migrating to the new app framework as soon as possible by following our
simplified guide
.
#
Sneak peek
OAuth Support for Remote Sources
We are excited to announce upcoming support for OAuth in addition to the existing authentication methods offered for Remote Sources.
Improved disaster recovery and regional performance
We will be introducing architectural changes to improve disaster recovery and regional performance for operations on the management API.
Akeneo app
Akeneo is a platform for orchestrating, activating, and optimizing product experiences across all channels, including eCommerce, mobile, print, social, etc.
With the new app, users will be able to seamlessly link product information stored in Akeneo within content entries in Hygraph.
Frontify and Aprimo apps for Digital Asset Management
We will introduce individual apps to enable users to add digital assets from or upload new ones in Frontify and Aprimo, from the Hygraph interface.
#
Community Spotlight
GraphQL Conf. 2023
Hygraph is proud to have sponsored the #GraphQLConf event, which took place on September 19-21, in the San Francisco Bay Area.
We were once again delighted by the rapid progress of GraphQL and the extensive range of tools within the ecosystem. Our discussions on various federation strategies have been insightful, helping us determine the future of our roadmap.
Our head of Developer Relations, Bryan Robinson also gave a keynote titled "Spoiled for Choice: Picking the Right Federation Technique for Your Project".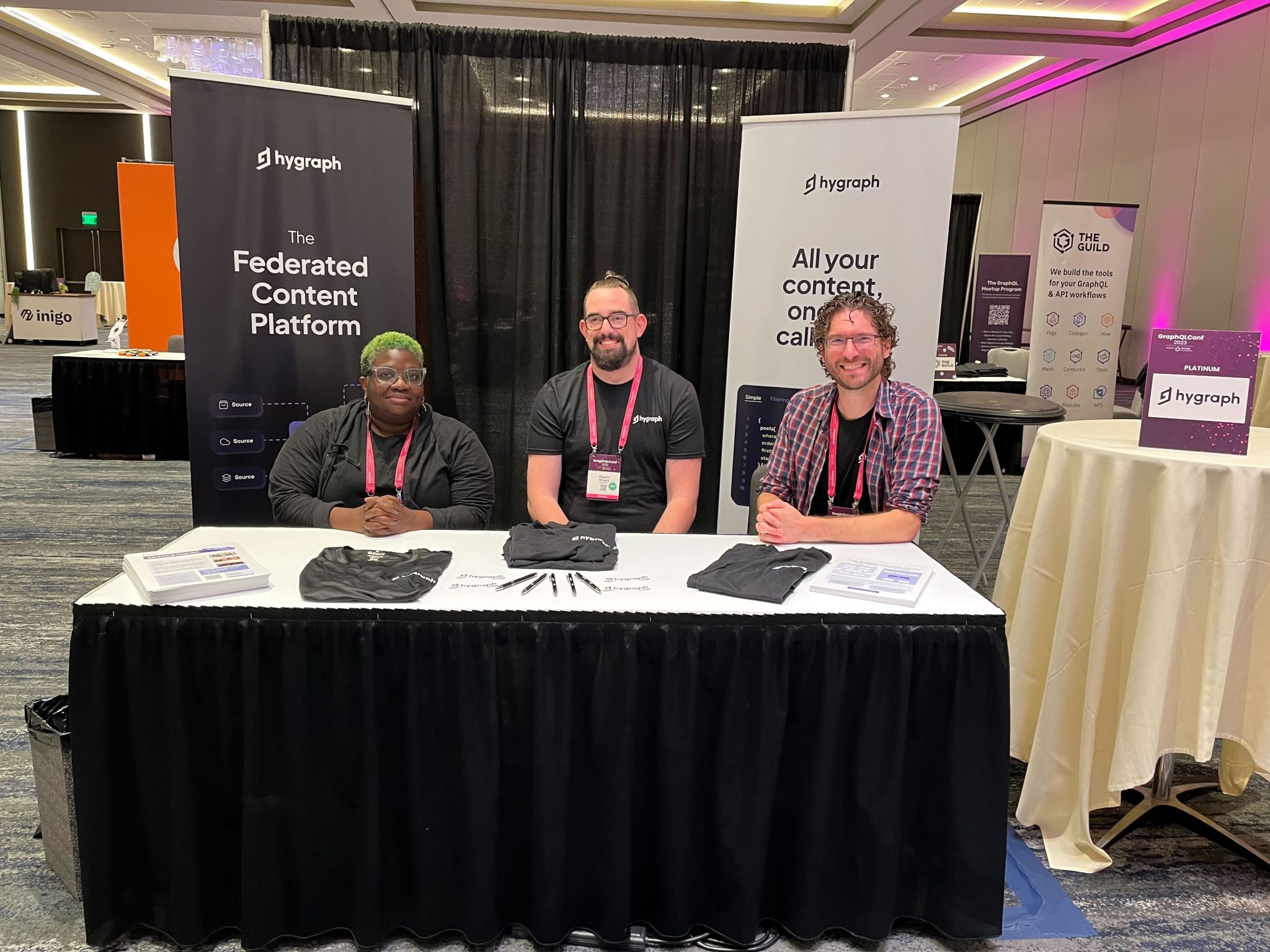 DMEXCO - Digital Marketing Exposition & Conference 2023
We were present as an exhibitor in Europe's leading digital marketing & tech event, which took place on September 20 & 21, in Cologne.
Our colleagues, Yi-Chin Peng, Christopher Kühn, and Vitaly Tolstenok, engaged in discussions with digital marketing leaders from leading tech companies in Europe. The topics included content strategy, next-gen content management, MACH, and headless solutions.
Learn more about events at Hygraph →
Join our community
​​Want to know when features roll out in real time to test, provide feedback and direction for Hygraph? Join our community through slack to stay up-to-date on all Hygraph announcements, events, and all the growing ways to get involved with Hygraph and our team.