It's been another exciting year for us at Hygraph. Across product, company, and industry at large we've seen remarkable growth. 2020 promises to be even bigger, especially for our product.
#
TL;DR
The industry for Headless CMSs and GraphQL have exploded over the last year.
We're making major strides in creating industry-leading infrastructure improvements that produce bigger, faster, and stronger APIs.
As a company, we've doubled in size, realigned our priorities to match yours, and are extremely excited for things to come.
We're planning a major product release with tons of new features, under-the-hood improvements, and a redesigned app.
We've had a busy 2019, it was worth taking a moment for us to be nostalgic, and now we're powered up and ready for a busier 2020 by your side!
#
Year Review
As an industry, we've seen exploding interest in both, headless CMSs, and in GraphQL. We've seen continued adoption of headless content management, serverless workflows and expanding platforms ready to consume that content.
As a product, we are now serving BILLIONS of requests to customers across the globe. We've continued to land new features and create industry-leading infrastructure improvements that produce bigger, faster, and stronger APIs. Our family of customers ranges from agile startups to progressive enterprise teams, and we now have strategic partnerships with agencies in 25 countries across every continent that isn't covered in ice.
As a company, we've doubled in size, added a new office in Berlin, and added new talent in all departments. Better yet, we have a maturing company culture that is as excited about the product we are building today than it has ever been, and that's for a very good reason.
#
Product Evolution
After a long year of user research and deep re-working of our system architecture, API design, content delivery strategies, and nearly every other foundational component to our product, we'd like to announce the next evolution in headless content management.
We've been a developer favorite since the beginning, but now we are returning to the editorial experience.
Scheduled, Staged, Scoped, and Versioned Content
You will be able to set content to any number of stages, track the changes through version management and schedule when those changes get moved to the next stage. Now you can write securely, evolve your content, ensuring only your finest work goes where you want it to go. Additionally, you will be able to set permission controls on models and entries. Governance controls for production, drafts, and more, never looked so good.
Adding Order and Variety to Relationships
There have been two stalwarts of our most-requested features. The ability to define polymorphic relationships (Union Types), and sortable relations. Polymorphic relations allow you to create even more flexible graphs where the relationship can be any one of a set of entities. This allows you to create a relationship of Page Blocks to one or more of Gallery, Teaser, or Callout, for example, instead of creating an array of unused fields in your API. Sortable relationships let you provide an editorial override on the order they are returned from the server.
UI Extensions
You can create even more custom editorial flows with custom editing components, display widgets, and more. We provide the rapidly delivered data, you provide a meaningful context.
Blazing Fast APIs and UIs
We've already rolled out the improvements to our CDN and smart Cache algorithm, but landing in early 2020 is an architectural shift that reduces schema size by a factor up to 10x, improves processing speed up to 100x, and is optimized for highly-performant parallelization. In addition, they have revolutionized the speed in which schema modifications can occur.
These changes not only benefit your services but add even faster performance for our own web-app, where countless usability improvements and design updates have taken place. We've also expanded on the built-in API playground with even more tools optimized for power-users, as well as those just getting started.
Focusing the Vision
As the product has evolved and matured over the years, it was becoming clear that our brand messaging needed to convey the good things that await our users. We are a headless CMS that helps teams get their products to market faster. We help you model your data into graphs and query that in the most efficient way possible. We're also a modern, battle-tested, data management platform that will scale with you. And so we got out the paintbrushes and post-it notes and tried to communicate that visually.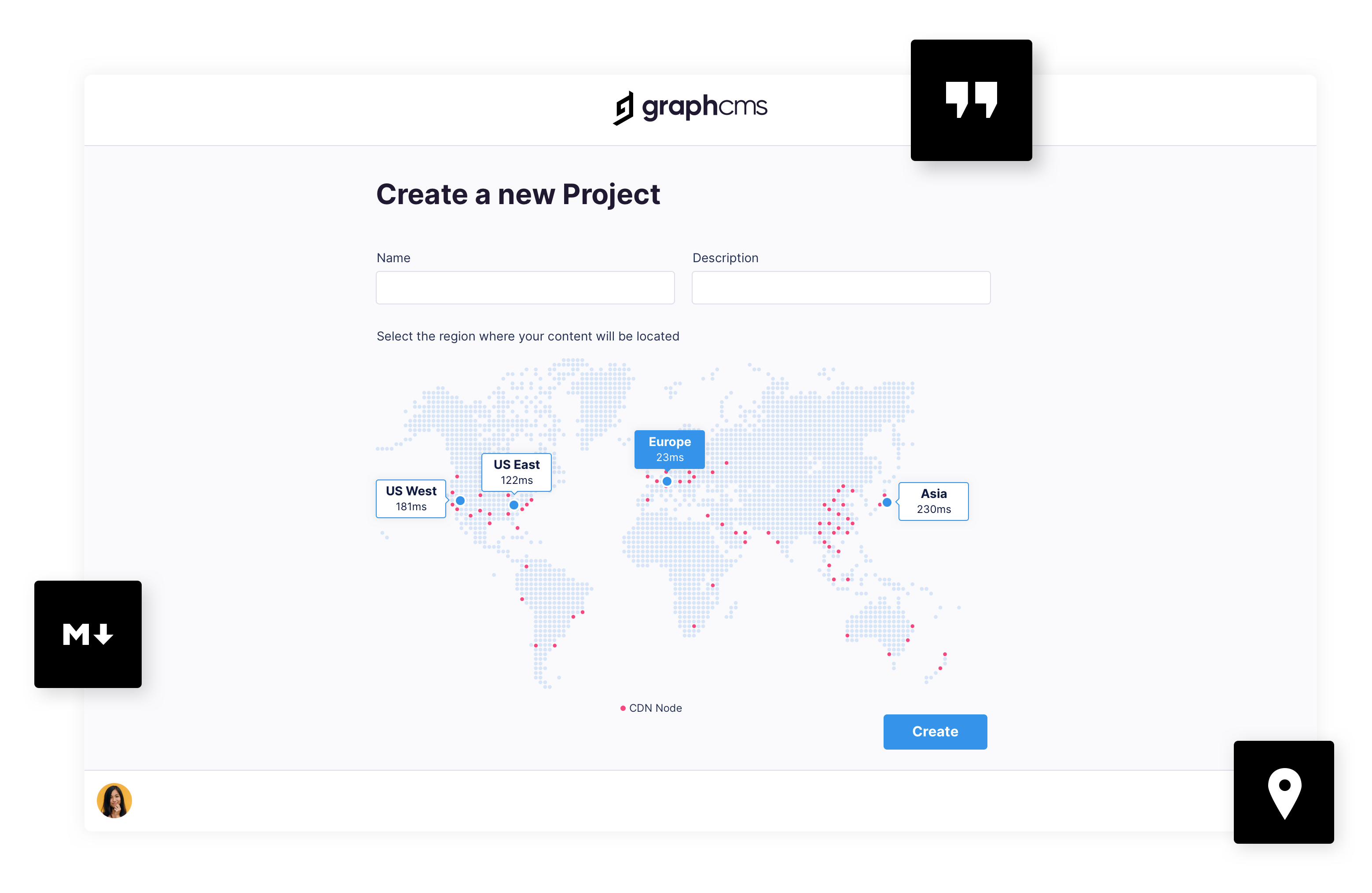 Going forward, our mission is focused on enabling you to serve content to billions of devices. We will focus on forward-thinking teams that want to deliver future-proof experiences at a greater velocity, and with confidence. In order to do that, we needed to realign how we fit into your equation. You and your customers are our customers, we love being able to celebrate your wins and get excited about your products. But as any good team player should be, we are designing our system to be a part of the puzzle. We want to blend into the background of service architecture and be one of the critical nodes linking the pieces together, letting you provide the perfect solution for your customers. In short, Hygraph of the future needed to be even more flexible, reliable, capable, and intuitive. So, here's what we came up with.
We've spent months getting these into place, and can't wait to invite you to try them first!
#
Next Steps
All of the above mentioned are planned for very-early release in 2020. The foundational work has been done and we have loads of new features planned, including some that you haven't seen in a CMS before – and we're really excited about that.
Thanks for joining us on the journey this far, for all your feedback, and for building innovative and exciting products of all sizes with Hygraph. Next year will be even better!
And in case you missed what we've been up to this year, let's get a little nostalgic:
So, as 2020 approaches and the holiday season progresses, we're gearing up for some exciting changes in the coming year with a lot of planned activities.
If you're already planning next year's stack changes and are interested in knowing more about how Hygraph can help your teams and projects scale, let's talk!
Until then, Happy holidays and have a great start into the new decade.